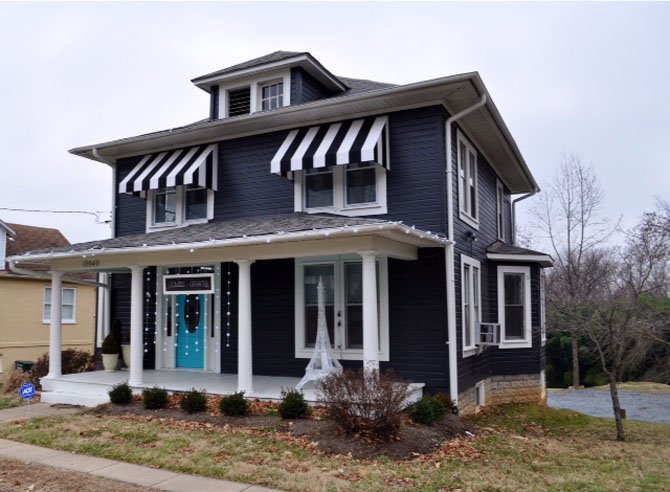 Looking for exclusive couture for a special occasion? Searching for distinctive home décor items? Seeking fashion or interior design advice? All are now available in Potomac at Gomez-Gracia, located in a little black and white house with black and white striped awnings — and a turquoise door — at 10040 Falls Road, minutes north of the Village. Here in "The Haus" are designer gowns, outfits, one-of-a kind home décor items, jewelry, handbags, paintings, furniture, gift items and more.
The sign in front of the home reads "Gomez-Gracia, Atelier," but, who is Gomez-Gracia? Patricia Gomez-Gracia was chosen by "In Style Magazine" as the "Designer to Know Now" in March 2014. Born in Madrid but raised in Miami, she received her training from Alexander McQueen and Julian MacDonald before starting her own label. The London-based designer has become a favorite for many celebrities, including Carrie Underwood, Katie Holmes, Angelina Jolie and Nikki DeLoach.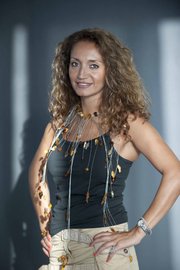 In 2012, Underwood wore a light, long-sleeved sequin-embroidered Gomez-Gracia dress which was voted one of the top Grammy gowns of all time. Her designs feature classic, sophisticated silhouettes with details like ruching, asymmetrical lines, cut-outs, embroidery and lots of texture. The clothes appeal to "a confident woman who wants to feel sexy," Gomez-Gracia said.
Potomac is the only U.S. location which will display the entire Gomez-Gracia collection — and, "Marvelous May" is the one time this year that her fashions will be on sale.
Marketing Director Alexa Smith is located on site to help customers select from among the many designs. "We are offering a homey environment in which to relax, receive fashion advice and choose that perfect outfit for a special occasion such as a wedding, bar/bat mitzvah, party or a charity ball. Wine and light refreshments are available while you shop. We are open Monday through Saturday from 11-4, and by appointment outside those hours," Smith said.
"For the first time," said Smith, "we are opening up the opportunity to host Gomez-Gracia trunk shows at private residences. It is an excellent opportunity for women to invite their friends and family to see the collection. The hostess will receive a complimentary Gomez-Gracia designer dress as a gift for hosting."
The Gomez-Gracia site is also home to Sogol Décor, a home-furnishings boutique. Located mostly on the second level, principal designer Sogol Afsharjavan is featuring a wealth of artwork, furniture, lighting pieces, jewelry and more — created by global artists that she has worked with.
"Every item has a story to tell," she said. For the month of "Marvelous May," Afsharjavan is offering interior and exterior color selection consultations for clients as well as sale prices on much of her collection.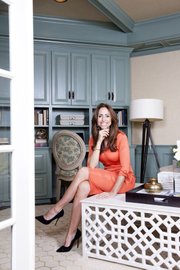 Since 1993, Afsharjavan has been using her interior design skills to remodel homes, office spaces and personal wardrobes. She is available for private consultations and to advise on all interior design projects. Her specialty is "to enhance your place of solace, focus, creativity, entertainment and networking to a renewed environment of tranquility and incomparable design. We strive to make life better with every element we implement in our designed concepts."
Afsharjavan has been involved with Art Basel in Miami and represents many European artists as well as local artists. She often works on projects in New York and Miami — and is a specialist in the field of yacht design as well.
For a private appointment or a trunk show with Gomez-Gracia, call Smith at 973-851-4844 or email her at asmithmarketing@aol.com. Gomez-Gracia fashion designs are at www.gomez-gracia.com.
Contact Sogol Afsharjavan for corporate or residential interior design appointments at 301-254-5907 or through email sogol@sogoldecor.com. Her interior design concepts can be seen at www.sogoldecor.com.