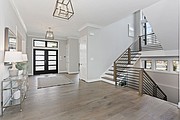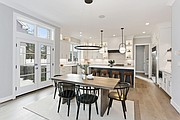 A former public servant's creative vision and dedication to preserving parklands was the inspiration behind a new residential area in Northern Virginia. Park Grove, an eight-home community in McLean, Virginia, is built on land that was once owned by former National Parks Director George Hartzog.

"His considerable contributions to our national parks formed the seed of the idea for the theme of Park Grove," said Jamie Gulick, Vice President, Gulick Group, the company that developed the neighborhood. "We've designed a warm, park-like environment in the community by using materials that evoke nature, invite sunlight into the homes with high ceilings and abundant windows, and create a clean-lined, peaceful, spa-like feel inside."
"We incorporated his work in a very literal sense with a small sculpture honoring his work in the community park area," added Gulick.
To bring the vision of living as if in nature into (or to) reality, Gulick engaged architect Bill Sutton, President, Sutton Yantis Associates Architects "They gave me a clean canvas to create, and I began my design process with layers and layers of hand sketches," he said. "... A consistent theme in my sketches was using low pitched hipped roof lines and wide eaves echoing the prairie style of Frank Lloyd Wright.

That design aesthetic is consistent throughout each home. "For the interiors, we wanted to complement the linearity of the exteriors inside with clean-lined simplicity," said Gulick. "The black exterior windows are white on the inside to promote an airy feel, and they have only horizontal mullions, so we selected an interior door style that reiterated that shape."
The modern and minimalist design allows the natural surroundings to be integrated into the décor. "The main level ceiling is more than 10 feet tall, and the windows have transoms above to flood the homes with light," said Gulick. "We kept the décor understated, to accentuate the subtlety of the architecture."
A major architectural feature, says Sutton is the stairway leading to the second level. "The upper floor is likewise spacious, with an open loft area at the top of the stairs...and a large open owner's suite," he said. "The dominant feature is the openness of the floor plan."
Plans for the subdivision include expansive bedrooms, each with a walk-in closet and private bathrooms, features that Park Grove's current homeowners enjoy. "They appreciate the loft space upstairs off of the secondary bedrooms, as well as the size and functional design of [those bedrooms], which gives everyone their own private place to unwind," said Julie Zelaska, Principal, Executive Vice President, Smith | Schnider, LLC, who is the sales rep for the community.

Four of the eight homes remain. For more information on Park Grove, visit http://www.parkgroveinmclean.com/.