Now in its seventh summer season, the Great Falls Farmers Market bursts of music, song, and summer harvest. Local families have a Saturday morning ritual of coming by to have their breakfast, listen to some good music, chat with neighbors, and have first pick of some wonderful local harvest.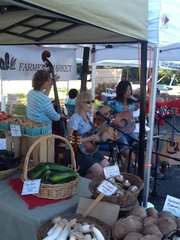 Families love the local breakfast food, whether Baguette Republic's muffins, danish, cinnamon buns, croissants, tarts, breads, cakes, pies, etc., or Plain & Simple's amazing creative quiches and muffins, or Happy Crepe's beautiful breakfast crepe, or Del Sur's empanada, or ViolAmi Cuisini's new gluten free bagel or naan bread (Amy, the owner, is working passionately to redefine the taste of gluten free) and come by religiously to pick up some community vibs to jump start their day.
VEGGIES AND FRUITS are just picked the day before. Penn Farm and Diaz Berries & Veggies have been coming to our market for at least 5 years and the Beltran and Diaz families are loved by our community. New this winter is J.J. Tyson of Tyson Farms, who is bringing an amazing assortment of fruits from a 60 acre orchard in West Virginia. Tuscarora Organic Growers Cooperative is a coop of 44 certified organic small family farms from Pennsylvania, half of whom are Amish. Known mainly for the great produce they have offered our community over the winter, this is the first summer that their summer crops are being offered.
Fermented products include Number 1 Sons, owned by an Irish-Chinese brother-sister team, they bring traditional fermentation techniques with a splash of unique produce combination to delight the palate. We recently welcomed Daisy's Probiotics, a new business owned by Daisy who is bringing Kombucha and fermented ginger ale. She has plans to bring fermented chutney's as well.
Vegan and raw food eaters are delighted with Postmodern Foods, owned by Denise Hicks, who hand-makes all of her juices, smoothies, raw salads, entrees, and desserts, offering the freshest, most creative, top quality raw food available in the entire area.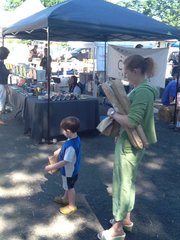 PROPERLY RAISED MEATS, chicken and eggs can be found at High View Farm, including Berkshire Pork (a heritage breed), pork chops, ribs, bacon, sausage, free-range chickens and the best eggs you can find anywhere.
Highly emollient soaps and lotions are made at a local Great Falls farm by Sarah Wehri of Amalthea Ridge Farm - her Chemistry PhD thesis was on "emollience" - how to soften and nourish the skin and sold exclusively at our market.
Fascinating duct-tape wallets are made by a local 15-year old, Carolyn, owner of Caro's Creations. Her products have just the functionality you need, and lots of pizzazz.
For newcomers to Great Falls, the Great Falls Historical Society is there every week with information about the history of our community and membership forms so that you can join a delightful and important local organization. When you pass by, GFHS is also offering cold water and soda as a fundraiser.
We know that you have many local farmers market choices and many wonderful local shops and restaurants to shop and eat local. Building a local community farmers market is the work of our entire local community - to visit and support local vendors, to support the infant local businesses as they hatch, to appreciate the vulnerability of fledgling business in the very early days - their fragile economics, and all the love, passion and willingness to learn, grown, and get it right the vendors bring. Our farmers market is an incubator of new offerings, made thriving and successful by the grace of your footsteps.
The Great Falls Farmers Market is held every Saturday from 9am to 1 pm in the parking lot at 778 Walker Road, next to Wells Fargo Bank at the entrance to the Great Falls Village Centre. www.greatfallsfarmersmarket.org