Please know that you have a standing invitation to join us every Saturday morning (9 a.m. to 1 p.m.) at the parking lot next to the Wells Fargo Bank for a spirited community event, the Great Falls Farmers Market – immediately following Cars & Coffee. Now in its seventh year, our local farmers market is a work in progress, defined by the freshness of our produce, the quality and uniqueness of our vendors, the delight of our musicians, the warmth of our visitors, the loyalty and dedication of our "devotees," and the spirit of our local community as evidenced by local nonprofit presence, special guests and unique events.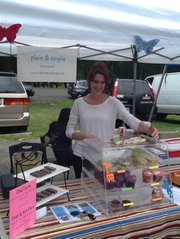 *Fresh: We have a core of long-standing vendors who bring local and certified organic vegetables and fruits, meats, eggs, and baked goods – Penn Farm, Diaz Berries & Veggies, High View Farm, Tuscarora Organic Growers Coop, and Tyson Farms (new this winter), as well as Dimitri unfiltered extra-virgin Olive Oil and aged Balsamic Vinegars.
*New Great Falls Businesses: We are very proud of our delightful made-in-Great-Falls offerings such as Backyard Eden's local honey, Jeff Rainey, Apiarist; Plain & Simple's amazing muffins and quiches; and Amalthea Ridge Farm's artisan goat-milk-based soaps and lotions. Tasteful Landscapes plants wonderful herb gardens, while State Gardens landscapes fruit orchards and more. Most amazing, 11-year-old Carolyn of Caro's Creations crafts hand-made duct-tape wallets and more. Other nearby (i.e. Sterling & Herndon) local businesses include Little Corners Petit Fours, a master baker, and Puttering Mom, a maker of hand-crafted gift items and artistic cards.
*Dense Nutrition Options: Who would imagine when we started in the early days with all the wonderful gourmet items arranged by Robb Watters when he launched the initial farmers market that we would also have a thriving raw food vendor (Postmodern Foods), an amazing thoroughly gluten-free vendor (ViolAmi Cuisine), two fermented vendors (Number 1 Sons pickles, krauts and komchi, etc.; and Daisy's Probiotics – fermented ginger ale and kombucha), a paleo (& more) baker (Bonn Boni)?
*Breakfast or Lunch at the Market: Need a quick bite? Happy Crepes prepares a custom European-style crepe for you while you wait. Del Sur offers Peruvian empanadas, warm and ready to eat. Baguette Republic offers all your favorite muffins, Danish, croissants, scones, and more – all baked the night before the good old-fashioned European way.
Having a community farmers market where you can meet and greet your neighbors, learn about local non-profits, be a central point for information on our community and more, is the collective achievement of all who support local. Serving our community all year round through all seasons, our farmers market is a work in progress, growing through the influence of your footsteps. What we become depends on those who come forth to incubate their fledgling businesses with us -- bringing what they grow, cultivate, or make -- and those who come by to encourage their very local efforts.
For information on weekly events and specials, please visit www.greatfallsfarmersmarket.org or visit us at www.facebook.com/GreatFallsCommunityFarmersMarket