When summer comes to a grinding halt in a few weeks, a new school year will begin. From alarm clocks and school bells to piles of homework assignments and sports schedules, maintaining a coordinated household can be difficult, however. Local organizers are offering simple suggestions to help make the transition from summer to the start of the school year seamless.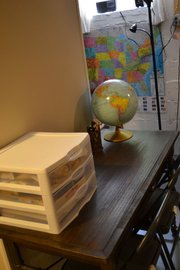 "If you've had a lazy summer and your home is an organizational mess, take a day off from work or at least set aside several hours to spend whipping it back into shape before the first day of school," said Faye English, an organizer from Fairfax. "The school year will be much easier if you get organized from the beginning."
Set aside time for tackling such projects as cleaning out bedroom and coat closets and mudrooms. "Take all of the clothes, jackets, shoes and sports equipment that your kids have outgrown and give them away," said English. "Once you've discarded everything you no longer need, start setting up new storage systems and make sure everything has a place."
One of the most noticeable changes that many families experience after returning to school is an increase in the paper that accumulates at home. "You have to plan the increase in paper work," said Alexandria-based organizer Laura Dando. "Give each child a file folder or a bulletin board where they can keep their important papers, permission slips and homework assignments. To control clutter, clean it out once a week."
Create a space to store or display artwork. "Children enjoy seeing their artwork hanging at home," said Dando. "At the end of the school year you can store some of the artwork in a keepsake box."
Take inventory of each child's school supplies and determine what needs to be purchased and what can be reused. "Once the school sends the list of supplies your child will need, figure out what you already have so you don't feel compelled to blindly buy everything on the list," said English. "If your child [has] a backpack or lunchbox that's in perfectly good condition, consider reusing it."
SET ASIDE A SPACE where children will do homework and make sure each child has a bin with the supplies he or she will need for completing their assignments, said Arlington-based organizer Michelle Stanbury. "The homework space should be quiet, free of distractions and have good lighting," she said.
Keep a large family calendar that includes each child's events. "It can even be a dry erase board," said Stanbury. "But it should include sports schedules, club meetings, field trip dates and other events. Use a different color marker for each child. This way everyone in the family knows everyone else's schedule."
Encourage children to begin choosing their outfits for school before going to bed at night. "This will save a lot of time and fights when children are getting ready for school in the morning," said Dando. "With younger children, it also helps if, when you're school shopping, you buy clothes that all coordinate together and match. This is especially useful for children who like to pick out their own outfits for school."
Designate a place in your home where children hang up and store their coats and backpacks. "As parents, sometimes it feels easier to hang up our children's clothes for them," said English. "But if kids are trained to hang up their coats, backpacks and lunchboxes as soon as they come in the door from school, it will be less stressful for everyone."