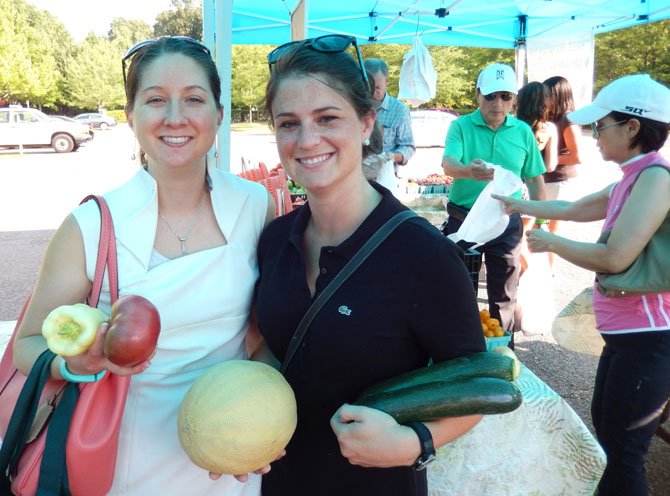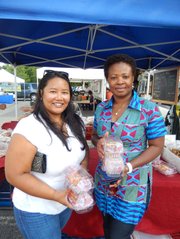 Whether customers are looking for juicy peaches, ripe tomatoes, coconut cupcakes or homemade ice cream, they'll find all those things and more at the farmers market at the Fairfax County Government Center.
Run by the county, it's held each Thursday, 3-7 p.m., in the parking lot of 12000 Government Center Parkway in Fair Oaks. It runs through Oct. 30 and often, there's a food truck, too, with the cuisine varying from week to week.
Board of Supervisors Chairman Sharon Bulova wanted a market here and this is its first year in this location. And the reception has been welcoming.
During a recent market, Duan Shankle got two lobster rolls from the food truck and bread from Great Harvest Bread Co. "It's great that the market's here and that they have fresh produce," she said. "And it's convenient for the Government Center employees."
Co-worker Bobane Dogomangue agreed. That day she purchased some cheddar-garlic bread, corn and other vegetables. "I think the market's a wonderful idea," she said. "It gives us access to fresh food that's healthy and lets us support the local farmers. It's important to give them the ability to continue."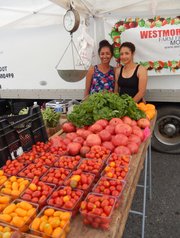 SISTERS ANGELICA AND ESTHER MEDINA helped customers at the Westmoreland Produce stand. They sold a colorful array of cherry and heirloom tomatoes, fresh basil, green beans and pole beans, plus eggplant, green peppers, cucumbers, squash and zucchini.
Among their customers was Fairfax's Steve Adams, who bought heirloom tomatoes and fresh basil from them. "Summer tomatoes are my favorite thing," he said. "I'm going to make caprese stacks with them and will also top some veggie burgers with the tomatoes."
Since Adams, too, works at the Government Center, he called the farmers market "super convenient" because he stops by on his way home. "I might also get some fresh peaches today," he said. "This market helps local farmers, the quality is excellent, you get fresh produce and it helps the local businesses."
Peggy McDonald of Fair Oaks said the farmers market brought back happy memories of her childhood. "My sister and I grew up with a garden in Loudoun County, and my mother and grandmother would can and freeze fresh vegetables," said McDonald.
At the market, she purchased cheddar-garlic bread and said Three Way Farm had "fresh and nice-looking" produce. "I think this market's wonderful because it's so close to home and the food is so fresh," she added. "More people should come to it. Last time I came, I got the juiciest peaches ever from Toigo Orchards and made a cobbler – and I bought more peaches today."
Her husband Tom said they also got dog treats from Great Harvest Bread, and her sister, Linda Fogle of Chantilly's Brookfield community, was also glad they went to the market. "I come here to support the small farmers," she said. "I got tomatoes, corn, cantaloupe and peaches. Having had my own garden for many years, I know how much work goes into it and how wonderful everything tastes when it's fresh."
Fair Lakes resident Jan Reimer was there for her second time and purchased corn, tomatoes, peaches, zucchini and cucumbers. "Everything looked really good," she said. "I also got a salted-caramel cupcake from Soul Cakes by Tanya. Last week, I had a mixed-berry trifle from her and it was very good. I come to the farmers market because the vegetables can't be beat and it's nice to shop outdoors here and meet all the different vendors."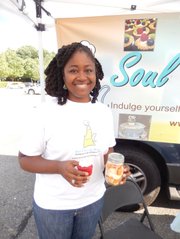 At the Soul Cakes by Tanya stand, vendor Tanya Logan offered a tempting array of scratch-made cakes, cupcakes, pastries and cookies. Flavors included coconut, red velvet and carrot cakes, plus chocolate, vanilla and salted-caramel cupcakes.
"The lemon pound cake is our signature cake," said Logan. "And one of our best sellers here is a trifle in a Mason jar. It's made out of lemon pound cake, peaches from the farmers, whipped cream and spice."
ON THE WHOLE, she said, "Business is good. The market is catching on – not just to the Government Center employees, but also to people from the neighborhoods, so that's really helpful. People continue to rotate through to check it out."
Other non-produce vendors include Nitro's Creamery and Kylie's Pop Shop. At Nitro's, owner June McMullen uses liquid nitrogen to make quick and creamy, homemade ice cream on the spot. Favorite flavors are vanilla and Nutella chocolate but, on any given day, could also include blueberry, mango or strawberry.
At Kylie's, owner Kylie Carey offers whimsical cake pops in flavors such as red velvet, dark chocolate, orange Dreamsicle, vanilla, lemon, chocolate chip and Heath bar. Cost is $3 each, $5 for two or $25 for a dozen.
Customer Joel Bittorf was buying grass-fed meat from The Lamb's Quarter, plus cantaloupe, squash and eggplant from Three Way Farm. "The market has grown by word of mouth," he said. "And people like the different food trucks, too. One week, there was a chicken-and-waffle truck, and last week's truck had Korean food and kimchi hot dogs."
As for the market, he said, "It's a good idea; it lets people buy local and helps the farmers. And it allows people to see where their food comes from."
Whitney Kazragis of Fair Lakes also had fun buying cantaloupe, zucchini and peaches. "Now that the weather's better, I'll come here more often," she said. "I think it's really important to support Virginia agriculture and the location's great. Having the market weekly, at a regular time and a central location, is important; and it'll be really neat to watch it grow."