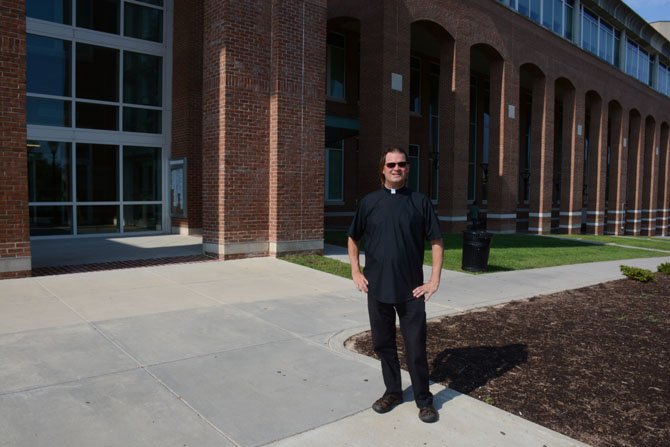 "I would expect most people wouldn't want to get married on the spot by a minister they don't even know," said Rev. Scott Sammler-Michael, minister of Accotink Unitarian Universalist Church in Burke. Sammler-Michael, himself from Fairfax, was one of 30 clergymen around Northern Virginia and 60 across the state that had been organized and planned to be present at local courthouses on Thursday, Aug. 21.
On that day, Virginia's ban on same-sex marriage was supposed to be effectively overturned by February's decision from the U.S. Court of Appeals for the 4th Circuit in Richmond. Immediately after that initial ruling, the Richmond-based group People of Faith for Equality in Virginia (POFEV) had begun planning for the ban's strike down to take effect.
POFEV wanted there to be a mixed-faith showing at courthouses across the state, with clergymen offering information, a calm presence and the opportunity for couples to marry immediately after securing a license -- thanks to Virginia's zero wait time policy.
"This is when people would be in danger of being harassed," added Sammler-Michael, who performed marriages in Washington D.C. this past Valentine's Day and is no stranger to demonstrators. "We wanted to be there so people didn't have to look far and wide. Or help them if there were any protesters."
Rev. Dr. Robin H. Gorsline, president and CEO of POFEV, was going to be on hand in Richmond for the same purpose, "with my husband of 17 years," he said. "Thursday was our 15th anniversary of our commitment ceremony in Brooklyn, N.Y. We would've been thrilled of course to have been able to get married here. Of course, it didn't happen."
BY THE EVENING on Wednesday the 20th, it was released that the U.S. Supreme Court would delay on Virginia's enforcement of the overturned ban. Same-sex couples would have to wait for weeks, perhaps months, for the Court to make another ruling based on petitions from Virginia and several other states with bans on gay marriage.
Unique to Virginia was the fact that Governor Terry McAuliffe and Attorney general Mark Herring refused to defend the ban. Yet Herring was also in favor of the Supreme Court's action postponing allowing gay marriage to take place. His stated concern was preventing legal ambiguity for gay couple who would have married on Thursday, just to potentially have their marriages nullified by a future ruling.
"I understood [Herring's] reasoning," said Sammler-Michael. "He didn't want to have to untangle a lot of people's marriages who were legally wed."
"I admire him a great deal," Gorsline said. "I would say to him: We've lived with that kind of uncertainty for so long; we would've been happy to at least have had a taste of legal marriage. We're sadly still very used to the fact that there's always somebody who thinks we should wait -- we'll upset somebody. We're accustomed to it."
On the opposite side of the issue, anti-gay marriage groups are applauding the Court's patience and respect for the governing rights of individual states. In Virginia, the original ban on gay marriage was approved by voters.
In a statement, president of the D.C.-based National Organization for Marriage Brian Brown said, "We had called upon the Court to take this step and are gratified that they will now be able to carefully consider the issues."
Sammler-Michael and Gorsline were greatly disappointed by the latest ruling, but maintain a positive outlook. "Change happens," said Sammler-Michael. "I tend to be optimistic. I try to have the long view of history. Even if it happens, in the end, it's for good reasons."
THE ACCOTINK CHURCH MINISTER rode his bike to the courthouse in Fairfax on Thursday anyway, just in case there were demonstrators representing either side of the ruling. By the time he arrived -- mid-morning -- there was nothing but typical traffic in and out of the main entrance. "It's an amazing time to live through all this stuff," said Sammler-Michael, "where it looks like we've regressed 40 years; but you take a couple steps forward, a couple steps back. You've gotta hope that you can enjoy the show."
"It's only a delay," said Gorsline. "It's not the end. And it's going to happen. I predict it will be here by this time next year, if not before. It's on the move."