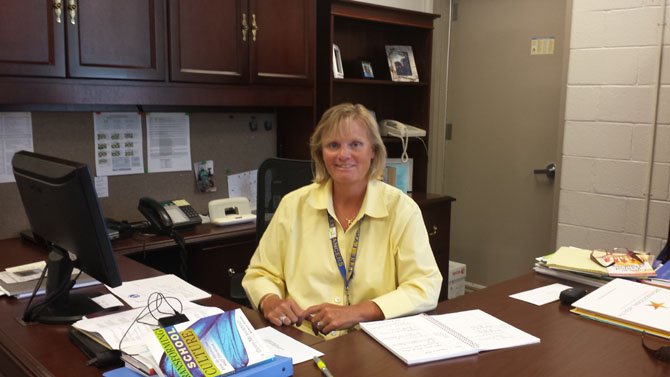 Many believe that it is the job of the student to challenge and push themselves in the classroom, but for incoming Robert E. Lee High School Principal, Deirdre Lavery, success begins with the teachers. "A real focus of mine is creating a community of learners, meaning both the students and the teachers. When students are challenged and can't meet the expectation, we don't lower the standards, we help the students reach the goal," said the principal on Monday, Aug. 25. This will be Lavery's first year as principal at Lee High School, and her first time working at the high school level. "I love the challenge of learning something new. But I also think that means I have something to offer too," said Lavery.
LAVERY COMES to Lee High School as a veteran in the Fairfax County Public School (FCPS) system. She began her career in FCPS as a teacher for special education at Frost Middle School, 28 years ago. Since then she has filled a number of positions, including assistant principal of Groveton Elementary School, principal of Mark Twain Center and director of Cluster 3 schools in the County. In 2009, she was named the FCPS 2009 Principal of the Year. She is also the recipient of the Washington Post Distinguished Educational Leadership Award. "My goal is to constantly communicate and over-communicate with staff," said Lavery. "As long as we communicate, things can run smoothly." During the summer, staff at Lee High School had a chance to come in to meet Lavery before the start of teacher meetings and back-to-school sessions in the week before the first week of classes. The purpose of these meetings was to provide teachers a chance to get to know Lavery and her philosophy behind teaching and educating. "We need to think about culture," she said. "We need to create a culture where we take care of a child not just academically, but also socially, mentally, and as a whole." Other teachers at the school agree with this philosophy as well. Twelfth grade social studies and special education teacher, Adam Greenberg, has worked at Lee High School for 13 years and is most looking forward to working with students and building a positive atmosphere within the school, "I am feeling optimistic about the year. I think there are a lot of good ideas and good discussion." Administrators and staff at the school use several measures to evaluate overall progress. "We look at attendance rate, the number of students in the International Baccalaureate (IB) Program, and test scores," said Lavery. The school also has a period called "Lancer Time" in which students can seek out assistance or extra help on assignments if needed. This period will remain available in the upcoming school year. "There are a lot of deeply committed educators at Lee High School," said Lavery. "The people here are committed to providing a rigorous education program where all students feel connected and cared about."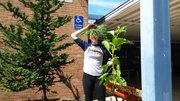 KIMMY HOWARD, a rising senior at West Springfield High School will graduate with a college degree from Northern Virginia Community College (NOVA) around about the same time that she will graduate from West Springfield High School with her diploma. "Kimmy is one of the few students who are dually enrolled," said Kathy Howard, mother. It was during a drive back from Ocean City that Kathy saw a large billboard advertising dual enrollment and decided to enroll her daughter at NOVA while she was still in high school. Dual enrollment is an option through FCPS that allows students to earn college credit while they are still enrolled in high school. For the 2014-2015 school year dual enrollment will be offered at NOVA and at George Mason University, however students are required to pay the cost of tuition at these schools and must meet certain criteria for admission.
Kimmy and her mother weeded the garden in front of West Springfield High School just in time for over 2,000 parents and students to arrive to the school for Spartan Spree, the annual back-to-school event. "Students come in to pick up schedules, get gym uniforms, and turn in legal forms before the start of school," said Johnny Pope, the twelfth grade assistant principal. Students filled the gym on the Tuesday afternoon of Aug. 26 to both drop off and collect all the information they need before starting school on Sept. 2. "I'm very excited for the new year," said rising eleventh grader Demetrius Mitchell. "I am most excited about meeting new people and for taking guitar. Music is my thing," he said.
Teachers, counselors, parents, administrators and students all volunteer their time to make Spartan Spree a success. "I'm looking forward to the new school year," said rising Junior Brittany Branch. Her advice to rising ninth grade students is to keep up with schoolwork and to take the first year seriously because everything counts in the end.
"Teachers are anxious to know who their students are," said Becky Brandt, the interim principal of West Springfield. "They also want to know what courses they will be teaching, and when during the day," she said. In the spring teachers can request what they would like to teach and when, but ultimately the school uses a student-driven approach to scheduling.
While the school sorts through student scheduling and registration, the last major question is who the principal will be for the upcoming year. "We can wait forever, we love Becky," said Bill Gibson, a teacher at West Springfield. But Ms. Brandt said that interviews are being conducted.
"I am most looking forward to making new friends," said a rising ninth grade student, Teresa Weir.