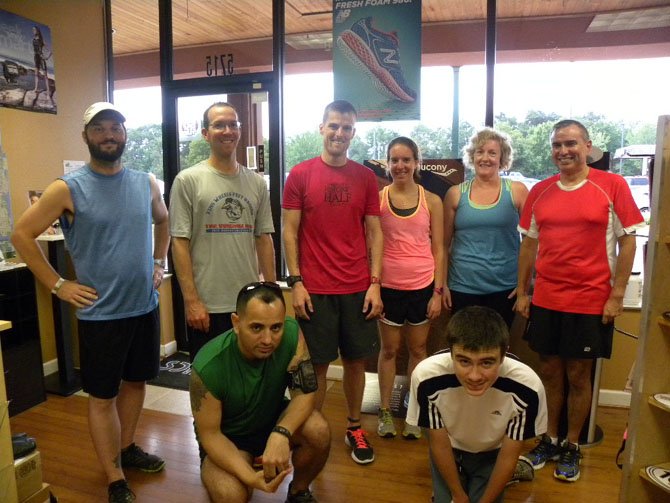 Runners in Burke have quick access to Burke Lake Park and Lake Accotink Park, as well as the Gerry Connolly Cross Country Trail after a short drive.
Gabe Roxas, of Burke, runs 20-30 miles a week. His regular run is at Burke Lake Park in Fairfax Station, which goes a little over five miles.
For Brian Waite, of Burke, Lake Accotink Park in Springfield, is his go-to loop. He usually runs 20-35 miles a week.
Jeremy Lynch, of Springfield, is lucky enough not to have to drive to hit the trails. From his house, he takes the Lake Accotink Trail which connects to the Cross Country Trail. It's "absolutely fantastic," he said.
But for those who want to pound the sidewalks and pavements of Burke, Potomac River Running Store of Burke's Hump Day Dash is a way to run, socialize and explore the neighborhood. The weekly run meets in the store on Wednesdays at 7 p.m.
Different types of runners participate in the run - from Boston marathoners to collegiate athletes to complete beginners. Lynch, who has been coming to these runs for almost two years, said that the event attracts "different types of runners at different places in their running."
Although the group is diverse, Maera Busa, a Potomac River Running Store employee, said that there is no pressure. Runners can go at their own pace.
The run is usually no more than 50 minutes, and goes from the store to the nearby trails and sidewalks in the vicinity.
"There are nice loops with lots of hills to challenge yourself. One twenty-three is good because it's flat. And, if you want to push yourself, you can go all the way on 123," said Busa.
After the run, participants can hang out, chat, and enjoy free snacks and beverages. The Potomac River Running Store in Burke is located at 5715 Burke Centre Parkway.