Michelle Bendit had no idea what Cerebral Palsy was like until the Marymount University senior put on a thick pair of gloves and tried to remove a pencil from a bag. That exercise inspired her to help develop a tool that ensures privacy in public restrooms with hard-to-latch doors.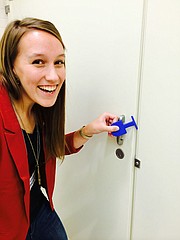 Interior Design Adjunct Professor Susan Hergenrather watched a video of a young man with autism who said the phrase "it's raining cats and dogs" makes him think cats and dogs are literally falling from the sky. That led to the creation of an app that helps autistic people interpret idioms.
Both innovations won awards for the teams that created them at the United Cerebral Palsy 2014 Enabled by Design-a-thon held at Martin Luther King, Jr. Library and Google Washington, D.C. from Nov. 5-7. The event brought together designers, technologists, engineers, students, people with disabilities and service professionals to share ideas and create accessible products and technology to solve everyday problems.
Hergenrather's team was the overall winner and received Google Chrome laptops. Bendit's team was runner-up and earned memberships and workshops at Arlington's Tech Shop. MU student Jessica Denson's team came in third for designing a clip bracelet that provides stability on a low-dexterity hand. They won Google Chromecasts.
Other Marymount participants in the two-day design workshop at Google Washington, D.C. included Associate Professor of Interior Design Robin Wagner and students Jessica Villeda, Chelsea Hendrix, Hieu Truong, Erika McGee and Heather Furman. Thirty MU students attended the event's opening night activities at Martin Luther King Jr. Library that featured talks by industry experts and networking opportunities.
The format for the event was developed by UK-based Enabled by Design, which helps people live as independently as possible by making day-to-day tasks easier.