Summer is a time when many enjoy outdoor gatherings with friends and family. From soirees in small courtyard spaces to poolside barbeques for a crowd, warm weather is often synonymous with alfresco entertaining.
From shatterproof platters and plates to furniture that can withstand the elements, outdoor accessories are plentiful. Local décor and design experts offer ideas for chic summer entertaining.
Robin Wagner, an associate professor of interior design at Marymount University in Arlington, says function and safety are top priorities when designing an outdoor space. "In talking about outdoor spaces, people view it as an extension of their home," said Wagner. "There are ways of making it feel like your home, but you have factors like weather impacting it, for example, the sun fading the fabrics or rain making things problematic. Companies now make furniture specifically for outdoor spaces."
Ann O'Shields, of The Nest Egg in Fairfax, says options for outdoor furniture are abundant. "The past few years have brought a huge introduction of outdoor materials that allow you to create an outdoor living space that is as beautifully decorated as your interior space. Indoor-outdoor rugs, seating, entertaining pieces and even artwork allow you to introduce wonderful color and texture to your deck, patio and garden spaces. Comfortable seating invites guests to linger long after the barbeque is over to enjoy cocktails and the evening air."
Wagner offers a caveat when purchasing furniture for outdoor use, however. "You don't want to end up with something that might look fine on the outside but that is holding in mold or mildew on the inside," she said. "Make sure it has the correct inside component of foam or fill that is impervious to mold or mildew."
When choosing colors for outdoor furniture, experts say to consider your surroundings. "If your garden is vibrant in color, you want neutral fabric to let the flowers stand out," said Wagner. "If it is an open space, say a pool or grassy area, then you want the furniture to be the focus and you use vibrant colors and patterns."
When it comes to lighting, designer Kelley Proxmire of Kelley Interior Design in Bethesda, Md., suggests LED lights. "They come in the form of pillar candles and small votives and you don't have to worry about them catching fire or the wind blowing them out."
Wagner said, "Solar lighting has come a long from what it was years ago. There are some great solar components out there. Don't think of lighting in the way you would inside your house. Use ambient lighting to set the mood for sitting outside and talking with your friends."
Susan Hergenrather, an assistant professor of interior design at Marymount University suggests stringing LED lights. "[They] can add sparkle. [They're] not just for winter holidays."
Candles are another lighting option, but they can serve multiple purposes. "Using candles not only helps keep the bugs at bay, but adds to the ambiance," said O'Shields.
While Hergenrather says homeowners should be mindful of candles that are unattended or if children are present, she also offers a decorative idea: "If you do use candles, vintage wooden spools make cool candle holders for tapers."
When it comes to casual serve ware, varieties are vast. "Melamine is a wonderful choice for outdoor serving while entertaining," said O'Shields. "Bright colors help set the tone for a festive gathering."
Proxmire adds that melamine can almost replicate indoor place settings. "There are melamine cups and plates that are pattered like Portuguese ceramic pieces," she said. "I had a client who went on [the website] Etsy.com and found navy blue and hot pink whale plates, monogrammed cozies and monogrammed disposable plates."
Unorthodox vessels can be used to hold accessories ranging from plants to utensils as well, allowing homeowners to expand their creativity. "Unexpected containers like a planter lined with plastic can be filled with ice to hold cold beverages," Proxmire said. "Mason jars are casual and [can be] used for flowers."
Chic and aesthetically appealing containers don't have to come with a high price tag, however. "The local flea market, yard sales [or] thrift shops … have very cool 'found objects' you can use as containers," said Hergenrather. "I found a great old metal pail that is perfect. [I] love anything metal like old wash basins for ice and beverages."
In fact, when it comes to accessories, Hergenrather says inspiration and materials can often be found in one's own backyard. "Use greenery, flowers, sticks [and] rocks [that] you have readily available in your yard to create interesting decorations," she said. "Use sea shells in glass containers to add interest to flower arrangements."
Evelyn Kinville of The Behnke Florist Shop in Potomac, Md., suggests using zinnias, dahlias and delphiniums in warm weather floral arrangements. "Usually in summer there are things like mountain mint which has a minty aroma to the leaf and a small puffy looking flower," she added. "Many people have daisies and hydrangeas in their yard and, of course, the real classic is sunflowers."
Kinville adds that summer arrangements are often casual and colorful. "But they are also geared to the general décor that the person doing the entertaining might be using in the linens," she said. "Generally, though, bright colors are more popular in summer than paler flowers."
Hergenrather says that even though outdoor furniture, flowers and accessories help create an aesthetically appealing design, they are not the most important element for a successful outdoor event, however.
"Remember it is the people that make the party special, not the décor," she said. "Make your space comfy and welcoming, keep the mood happy and festive ... enjoy your family and friends."
Photo Gallery
Ideas For Summer Outdoor Entertaining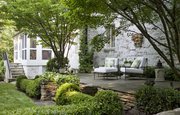 Click Photo for Flash