The 2014 Washington Business Hall of Fame induction ceremony was held on Tues, Dec. 2 at the National Building Museum. This year's Hall of Fame inductees are:
Sudhakar Kesavan, Chairman and CEO, ICF International based in Fairfax. Kesavan is an engineer with a MIT master's in technology and public policy, his firm consults on energy, environmental, and health matters. He also chairs the Northern Virginia Technology Council and leads ICF's many charity efforts.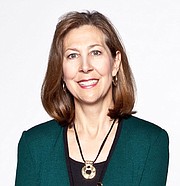 Debbie Kissire, Vice Chair, Ernst & Young (now EY) – who lives in McLean, a would-be schoolteacher who discovered her affinity for business via a summer job at her hometown bank. She switched majors, went to work for the Big 8, and rose to be Vice Chair of EY, all the while developing and advancing women and dedicating herself to philanthropy.

Dennis Ratner, Founder, CEO and Stylist, Ratner Companies based in Vienna. He started Hair Cuttery with $5,000 and an idea for a unisex shop for all ages that would offer fashionable cuts for low prices. Today his company boasts 1,000 salons across 16 states, and Ratner's active in the philanthropy scene.

Peter Barris, Managing General Partner/Washington, DC, New Enterprise Associates. A Dartmouth MBA who worked under GE's Jack Welch, he led his boutique VC firm to help entrepreneurial companies such as Groupon, CareerBuilder and TiVo turn their ideas into success. He also uses the venture-capital model to invest in local nonprofits.
The Washington Business Hall of Fame recognizes outstanding business leaders and their significant contributions to the quality of life in Greater Washington. The annual black-tie gala and awards ceremony brings together 1,200 business and civic leaders and raises over $1 million annually to support Junior Achievement of Greater Washington's innovative financial literacy, work readiness, and entrepreneurship programs for K-12 students.