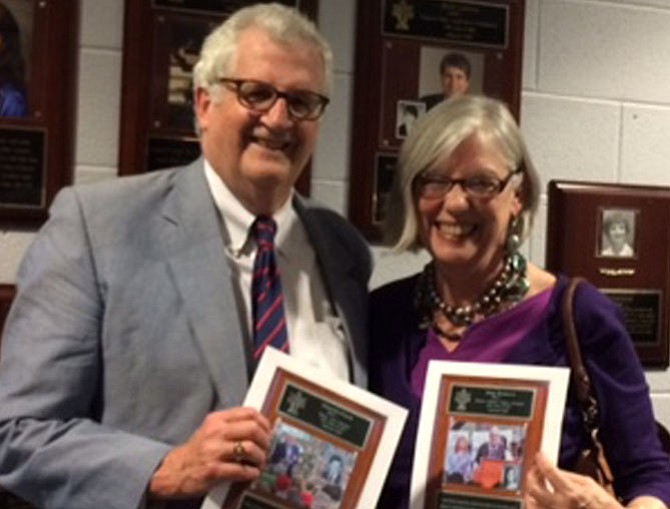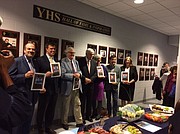 Seven accomplished alumni of Yorktown High School were inducted in the school's Hall of Fame and Inspiration at a ceremony Friday evening, May 18. The event, held in Patriot Hall, welcomed inductees, their families, students, alumni, parents and community officials for whom presenters dedicated seven plaques containing photographs and biographies mounted on the wall in the gym lobby.
The Hall of Fame and Inspiration was created in 2004 and includes such notable alumni as broadcaster Katie Couric (class of '75), Google CEO Eric Schmidt ('72), Olympic swimmer Tom Dolan ('93), the late astronaut David Brown ('74) and Hilton Hotels CEO Chris Nassetta ('80).
The addition of seven in 2018 brings the total inductees to 35, after rounds of inductions in 2004, 2008 and 2014.
The selections of distinguished alumni are made by a committee of alumni, a former teacher and a student member. Nominations are solicited from former students and the community via local news outlets and the website Yorktownalums.org seeking suggestions based on the following criteria: "alumni (including faculty and staff) who went on to become well known for achievement in any area of endeavor that brings credit to the school and whose story is compelling and inspiring." The committee then votes on the individual inductees.
"The fame can be local and national, but the accomplishments should have meaning to the students who walk by the plaques every day," said current committee chair Sara Jane Knight, a retired Yorktown government teacher. Funding for the project came from donations. "The committee had some tough choices to make."
The alumni inducted in the 2018 round include:
Meg Baldwin ('71), a women and children's rights advocate who leads a sexual violence resource center called Refuge House in Tallahassee, Fla.;
Charlie Clark ('71), a columnist, journalist and local historian who has written two books and many articles on Arlington history;
Jonathan Kinney ('64), an Arlington attorney and land-use expert with many community awards;
Jack Lechner ('80), a New York City film and TV producer, lyricist and book author who produced the award-winning documentary "The Fog of War";
Jonathan Martin ('95), national political correspondent for The New York Times and frequent guest on CNN and "Meet the Press";
Nancy Pletcher McFarlane ('74), the mayor of Raleigh, N.C., who founded a pharmacy company that serves the chronically ill at home.
Ian McWethy ('01), a New York City-based playwright whose 40 works have been staged more than 4,000 times in 50 states and 32 countries.
The Friday night ceremony was hosted by Arlington native, public relations executive Bob Witeck (Yorktown Class of '70), and was followed by a reception with light refreshments.