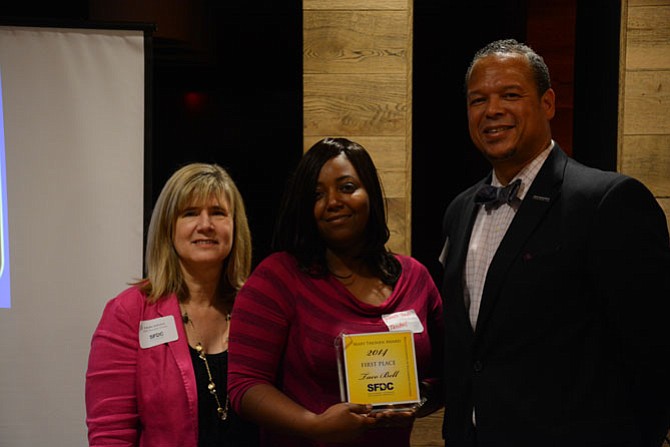 When she first heard Taco Bell had won, Yolanda Frye was shocked. "It means a lot to our Taco Bell," said the regional general manager for the chain.
The location at 8652 Richmond Highway in particular won first place at the Mary Thonen Highway Beautification Awards, presented by the Southeast Fairfax Development Corporation (SFDC) Dec. 3 at the recently completed Shelby apartment building.
Mary Thonen was once the SFDC board president and a longtime volunteer with the organization. Described in a short video for the awards presentation as "gentle" and "wonderful," Thonen was driven to encourage beautifying the Route 1 corridor.
The awards named for her recognize and thank commercial property owners who exemplify that mission, be it through improved landscaping, architectural enhancements, design or simply exceptional exterior cleanliness.
Criteria are just that the business be visible from Route 1, from the Fairfax County Parkway south of Fort Belvoir up to the Beltway.
The citizen committee that made the selections recognized Taco Bell's six-month remodeling of both its interior and exterior. "It's obvious they care," said Roger Reutershan, a member of the SFDC.
"Everything is new," said Frye. "Outside, inside, changed restrooms, all new tables and chairs, the walls, everything."
SFDC Executive Director Edythe Frankel Kelleher noted the diversity of businesses being recognized.
"First place is a franchise Taco Bell," Kelleher said. "When I spoke with [Frye] on the phone, she was so excited, she said, 'Oh I'm going to tell my whole team.' Then the second place, Mount Vernon Plaza, a big outfit with Federal Realty, investment trust, property: It was really the two ends of the spectrum from number one and number two."
Supervisor Jeff McKay (D-Lee) helped open the program and stalled for Board of Supervisors Chairman Sharon Bulova to get to The Shelby (6200 North King's Highway). "I'm glad the chairman is late," McKay deadpanned, "because that might mean she's stuck in traffic, which might mean it'll be easier to get even more road money to this end of the county."
But he took the opportunity to highlight the need for improved transit along the corridor. "The quality of our transit leaves a lot to be desired," he said. "We should have first class bus rapid transit system in place today. There's no reason we can't do that in the short term."
As for a Yellow Line expansion, "There's not an elected official that doesn't want to see rail on the highway," McKay continued.
When Bulova arrived, she was quick to confirm that yes, she was stuck in traffic and yes, "We're working on that." The chairman then transitioned to the topic of beautification of Route 1.
"I'm originally from this part of the county, when I first moved into Fairfax County in 1966," she said. "I can tell you that this area is really blooming, just turning into something more wonderful than it ever was before. So congratulations for helping that happen."
Honorable mentions for beautification awards were Huntington Gateway, Red Roof Inn, Montebello Condominium, Cityside/Huntington Metro Apartments and Mount Vernon Square Apartments.