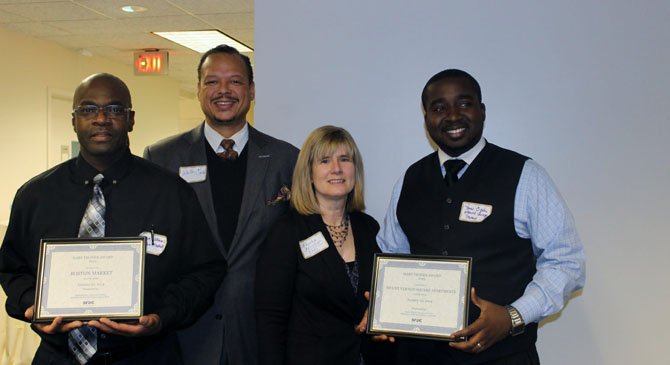 Steve Mehr, owner of the Mount Vernon Sunoco on Richmond Highway and a member of the Mount Vernon-Lee Chamber of Commerce, said it isn't too difficult to keep his business's landscape looking nice.
"I just put a little extra time into it," said Mehr, who has owned the business for 28 years. "It takes minimal effort."
Mehr is among several other business owners along Richmond Highway who were honored for their beautification efforts at the Southeast Fairfax Development Corporation Open House and Mary Thonen Awards. Sunoco was awarded a Gold Level Award, the highest possible category.
According to Edythe Kelleher, executive director of SFDC, a committee was sent out in the middle of summer to judge business along Richmond Highway. After comparing notes, the Community Appearance, Planning, and Transportation Committee decided the award level for the nominated businesses.
Vicki McLeod, treasurer of the Lee District Association of Civic Organizations, knew Mary Thonen very well and said the two were very close friends. McLeod used to drive Thonen to the civic association meetings, and said Thonen was the one to turn to if you wanted to know something.
"I know she would love these beautification efforts," McLeod said. "She was very active in Lee District."
Thonen was a civic activist who sat on the planning commission for Lee District. According to McLeod, Thonen started recognizing businesses along Richmond Highway for their beautification efforts.
"These businesses really add to the beautification of Route 1," McLeod said.
Sunoco, Mount Vernon Plaza and Red Roof Inn were recipients of the gold award. Silver awards went to Cityside Huntington Metro, Boston Market, Mount Vernon Square Apartments, and Taco Bell.
Bronze level recipients included Traveler's Motel, Huntington Gateway Luxury Apartments, Montebello, Beacon of Groveton, Groveton Baptist Church, Cherry Arms Apartments, The Village of Gum Springs, Cooper Center, Jiffy Lube and Mount Zephyr Community. Gum Springs Glen received an honorable mention.