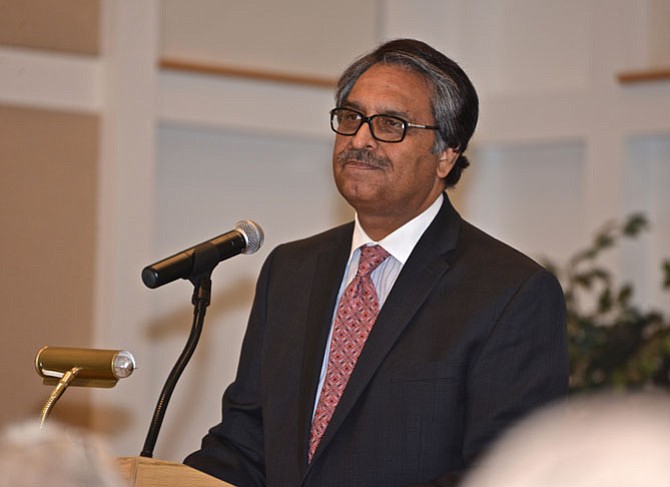 A Hindu, a Presbyterian, and a non-denominational Christian were sitting at a table listening to a speech by Pakistan's Ambassador to the United States... The occasion was a fundraiser for Reach Out International (ROI), a nonprofit interfaith organization founded by Restonian Sam Mall. Mall was born in West Punjab, just a few years before the region transferred from Indian to Pakistani rule. Mall and his wife, both professionals in Pakistani society, "could not see a good future for our children there. I saw the country losing its original character of democratic freedom and non-fundamentalist structures," he said. The Malls emigrated in the '80s and became U.S. citizens. But this son of an Anglican priest could not just sit by and ignore what was happening in his native land. He spent many years involved in numerous human rights activities until he "felt the call" to aim his works toward the place where he had come from.
Ten years ago he started ROI. The primary focus of ROI is ministering to the needs of Christians in Pakistan, where their overwhelming minority often makes life difficult for them. As Mall puts it, by "addressing the root cause of the problems, ROI seeks to better the lives of this disenfranchised group and promote interfaith reconciliation and communal harmony for peaceful coexistence." Mall believes that it requires people of all faiths to join together at the basic human level in order to achieve that goal, and ultimately make the whole world a better and safer place.
He is achieving the goal of bringing an interfaith community together to discuss serious world affairs and human rights issues. The fundraiser was held in the Hall at the Vienna Presbyterian Church. The All Dulles Area Muslim Society (ADAMS), which helped raise money to rebuild the Christian churches destroyed by suicide bomb attacks in Peshawar in Pakistan in 2013, and the Muslim-Christian Interfaith Federation International co-sponsored the event. The pastor of the Episcopal Church of the Holy Comforter in Vienna, Reverend Richard A. Lord was an honored guest and speaker, befitting his longtime involvement with Mall and ROI. And, of course, there was that table with the Hindu, non-denominational Christian and the Presbyterian…and they were surrounded by tables that mixed Christian, Muslim, Jew, and one self-described "believer in something out there." Together they listened to a series of speakers and watched a video presentation of Mall's most recent trip to Pakistan where he met with numerous religious and political leaders, as well as average citizens, seeking to encourage what he calls "People-to-People Diplomacy" to build trust and cooperation among different faiths.
The evening's keynote speaker, Ambassador Jalil Abbas Jilani, Pakistan's ambassador to the United States, stressed his government's commitment to seek out and punish extremists who commit atrocities such as the church bombings, but he cautioned, "Governments can only do so much to a point. It requires everyone to do something to make the change." He praised the work being done by ROI and its fellow interfaith communities, and ended his speech by making "a humble personal donation from myself and from the staff at the Embassy to further these good works."
While Mall, ROI, and others such as ADAMS believe that it is imperative to open dialogue and keep it flowing, they also know it takes more to improve the circumstances of the Christian minority in Pakistan. "The needs are many," admitted Mall. Thus, the fundraising aspect of the event. Money raised will fund ROI's help in bringing training, job skills, and immediate assistance to those in need, and developing grass-root programs and opportunities for future young leaders on the ground. "This next generation needs encouragement and assistance, help in finding and using their voice," said Mall. "Christian leadership is foundering there, and without support, they cannot take their place in building the solutions."
Reach Out International is always seeking financial support for its efforts, but also hopes to recruit more persons from a variety of faiths to join in the dialogue, as volunteers, and even to serve as members of an Advisory Board. Their website is currently under re-construction, but more information is available on their Facebook page (search Reach Out), or by contacting Mall at reachoutintl@comcast.net.