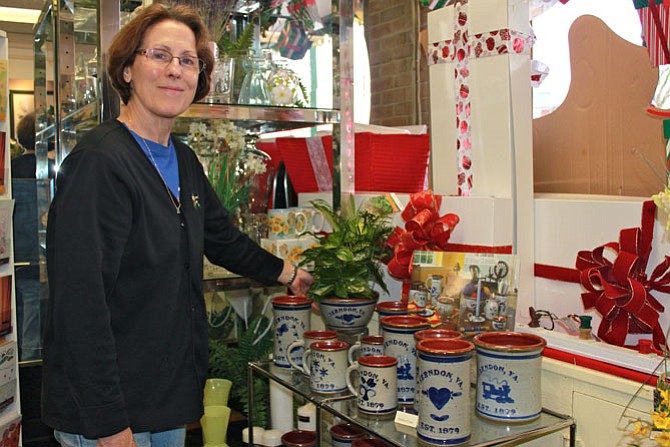 As a shop that has been a local institution for nearly 40 years, Herndon Florist has experienced the holiday season many times.
The shop is stocked with its usual items that have grown to be popular for holiday shoppers as the temperatures drop.
Sales associate Bobbe Duquette has learned a lot about flowers and design during the years she has worked for the shop.
"After retiring from one career, I just wanted to do something fun and different," she said.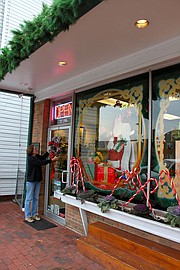 These days, she is fussing about the shop, making sure everything is in order as customers come in for flowers or cards. Out of the corner of their eye, customers might see ceramic holiday themed owls, felt penguins or hand-formed Herndon crockware.
The most popular items during the holidays, however, are still plants. In addition to poinsettias, the shop is selling several arrangements at different price points - including one with a plush reindeer hanging off of a scarlet bud vase. Another arrangement erupts out of a vase shaped like a present.
"Every year, we have different types of arrangements that we offer," she said.
The store also creates fruit, cracker and cheese gift baskets for the foodie on everyone's gift list.
"We don't do alcohol, but we will add sparkling cider," she said.
The line of Herndon pottery also features pottery celebrating Reston, Sterling and Ashburn. Duquette said the work comes from a potter in Pennsylvania.
"People can get them by themselves, but we do arrangements with them for Christmas and the rest of the year," she said.
Owner Anne Harvey, said it is important for residents to shop local if they want their dollars to go back into Herndon's traditions and causes, which Herndon Florist actively supports and sponsors. During the first several weeks of the month, the shop was selling tickets to the Holiday Homes Tour, a seasonal favorite for the town.
"We want to make sure that every penny that people spend here stays in the community," she said. "We're the perfect stop for last minute gifts - we deliver the same day."
The shop's pull does not just affect locals, however. Terry Biederman, visiting family from New York City, was looking at the cards. She said she remembered coming to the store when she lived in Herndon and the store was frequented by her grandmother before she passed away.
"They've always done great arrangements," she said.
Herndon Florist is located at 716 Lynn Street and is open from 9 a.m. to 5:30 p.m. Monday through Friday and 9 a.m. to 3 p.m. on Saturday. For more information, visit http://www.herndonflorist.com or call 703-437-4990.