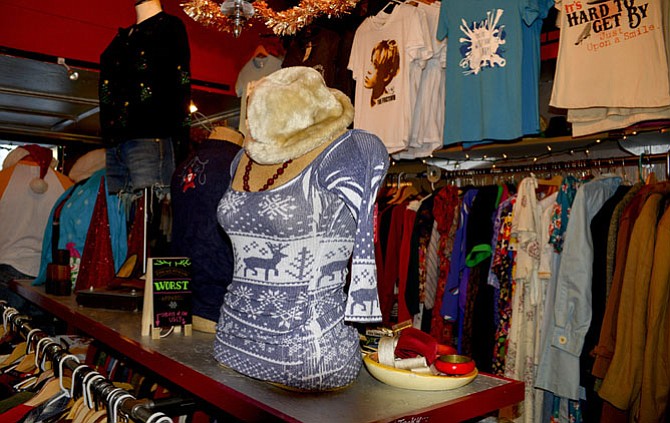 Instead of driving to one of the malls take a venture to the town of Fairfax. There you will be delighted with thoughtful gift ideas and services.
In a visit to Fairfax Town Center, nestled by diverse dining options on University Drive and Main Street, one can find a handful of small businesses offering unique products.
"The Factory Tee & Vintage Apparel" store on 10409 Main Street has a wide selection of one of the hottest trends this holiday season – the ugly Christmas sweater. Over 200 different sweaters are available and if this selection doesn't catch your eye they offer custom screen-printing so you can deliver the message you want.
At the "Paint Your Own Pottery" at 10417 Main Street the hottest thing going is the "Handprint Ornament." The cool thing about "Paint Your Own Pottery" is that you can make a holiday platter, a custom magnet or an ornament. Their large open store allows one to custom create a long lasting, thoughtful gift. Once you complete your product they will glaze your creation. Since it takes a few days you want to make your special creation sooner than later.
"Fair Trade Winds" located at 10420 North Street Old Town Plaza offers a wide selection of artisan items: jewelry, clothing, bags, scarves, kitchen and dining items, home décor, and baby items. What "Fair Trade Winds" brings are handmade items with a business model to ensure that the artisan is fairly paid for their work. They purchase their items from the Fair Trade Association that helps developing world artisans by fairly compensating them for their work.
The Green Massage Spa on 3950 University Drive opened just two weeks ago. They are offering a 60--minute massage by a certified masseuse for $29.50.
--Terrance Moran