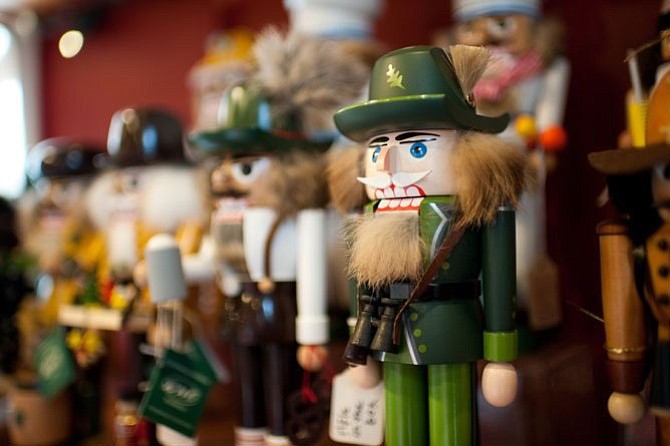 You've made your list and checked it twice. Even if you aren't already one of the 57 percent of shoppers who have started their hunt for holiday gifts, you can relax. Local businesses offer last-minute shoppers a selection of gift ideas sure to please even the Grinch on your naughty or nice list.
With Christmas Eve falling on a Sunday, shoppers actually get an extra weekend to shop for family and friends. And while it may seem counterintuitive to wait until then, stores are actually less crowded and many begin marking down merchandise that evening in anticipation of the Dec. 26 sales.
Old Town and Del Ray feature many shops with handmade and Alexandria-centric items. In Old Town, one-of-a-kind hand-crafted gifts can be found at the Torpedo Factory Art Center, including textile gifts like colorful scarves, wraps, sweaters and capes. Unique pottery and images of local scenes are also available in a variety of mediums. You can pick up some hand-painted note cards or give a gift certificate for a family or pet portrait.
The Old Town Shop on South Union Street carries a variety of items designed to highlight Alexandria and its history as a port city. Gift items range from clothing to historic maps and food items from the Old Town Farmers Market.
In Del Ray, the Del Ray Artisans Fine Art and Fine Crafts Holiday Market features works from local artisans including handmade pottery by Stephen Lally. Remaining weekends for the Market are Dec. 8-10 and Dec. 17-19. Visit www.delrayartisans.org for details.
An often overlooked source of holiday gifts is The Shops at Mount Vernon. Combine a shopping trip with a visit to George Washington's Estate and lunch at The Mount Vernon Inn Restaurant.
For something different, check out the gift shops in Alexandria's local museums. And school bookstores often have interesting gifts for students along with logo-ware for your favorite alum.
Local spirits can be purchased at Port City Brewing or pick up some gourmet cupcakes at Alexandria Cupcake. While you are walking along King Street, stop in at Goldworks, where David Martin creates custom designed jewelry for both men and women.
Gift certificates for dance or acting classes are available at The Little Theatre of Alexandria or purchase a season subscription to one of Alexandria's many performing arts organizations like The Alexandria Symphony Orchestra or MetroStage.
With 18 shopping days left until Christmas, there is plenty of time to get your holiday shopping done while checking out the many local shops and restaurants.