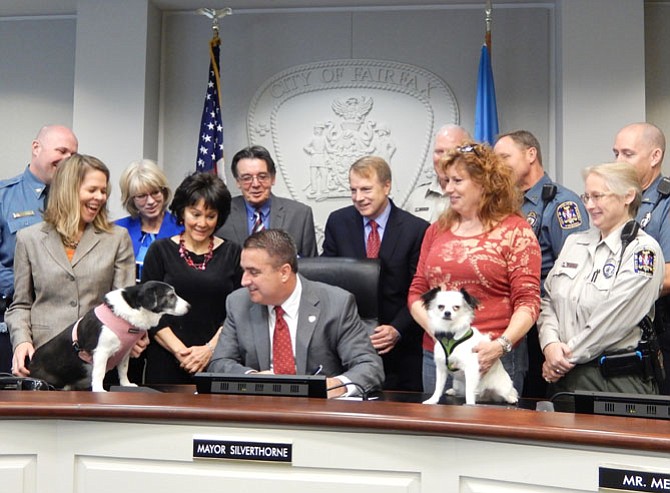 When the Fairfax City Council last week passed one of the most stringent tethering laws in the state, it pleased many residents and animal advocates.
"It's the culmination of a year's worth of work," said Fairfax resident Tim Parmly, who directs an equine-welfare group. "It's an ordinance much-needed to protect the dogs in this City."
Under the new ordinance, companion animals can't be tethered, tied or chained for more than one hour a day between 7 a.m. and 10 p.m. And tethering between 10 p.m. and 7 a.m. is prohibited altogether.
Animals under 4 months old or who are sick or injured may not be tethered, at all; and no animals may be tethered in temperatures higher than 90 degrees or less than 32 degrees. A $50 civil penalty will be assessed for the first violation; anyone found guilty of second or subsequent violations may be fined up to $250.
IN SEPTEMBER, Arlington County's Animal Control Chief Alice Burton said her county passed an ordinance last year prohibiting tethering for more than three hours a day. "Tethering leads to aggression, barking and health problems," she said. "And barking upsets neighbors, who may retaliate against the dog."
Shelley Feeley, with the Fairfax County Humane Society, also urged City Council to adopt a tethering limit. "Dogs are social animals needing daily exercise, affection and attention," she said. "Leaving animals tied up for long hours is cruel and also causes loneliness and sadness. Man's best friend deserves better than being tied up at the end of a chain."
At a subsequent Council work session, Police Chief Carl Pardiny – who was the City's first K-9 officer – continued the discussion. He said tethering lets a dog run and play without running away. But it can be abusive if the tether is too short or if there's extreme weather.
"Dogs tethered over a long time learn to protect that small area and become more aggressive," said Pardiny. "They don't get enough socialization, the ground becomes warn and muddy and, without proper care, that dog could become infected with parasites and diseases."
He said it would help to have an ordinance in place in advance of possible future problems, as people are living closer and closer together. "In the City of Fairfax, we've had a total of 13 complaints over two years, involving seven residents," said Pardiny. "In every case, we received compliance or the owner gave up the dog."
He said the ordinance would also enable law enforcement to take legal action when warranted, if the animal owner didn't comply voluntarily. And it would ensure that cases of abuse were properly tracked and investigated.
Pardiny also recommended an internal policy with graduated, response guidelines detailing "how our officers and animal-control officers will respond to complaints and follow-up complaints about the same person. Education would be our focus, but we could take the appropriate action, if necessary."
THE GOAL, he said, is "to prevent the cruel and inhumane treatment of animals, and there's a lot of support from residents and animal-rescue groups for such an ordinance. And since we now have another animal-control officer, we have the resources to enforce it."
Mayor Scott Silverthorne said he'd support the ordinance, and Councilwoman Nancy Loftus called it a good idea that "adds clarity for people who want to tether their animals, but not cross the line toward not properly caring for them."
Then last Tuesday, Dec. 9, it was time for action; and at the outset of the public hearing, the proposed ordinance before the Council limited tethering to no more than three hours a day. Sue Bell, founder of Palmer Animal Rescue, thanked the City and Pardiny for tackling this issue and understanding that how animals are treated matters.
"People who tether their dogs think it's acceptable and normal," said
Feeley. "But with ordinances like this, thinking and action can change. This is important for the City of Fairfax and can be a sunbeam of hope for other Virginia counties."
Councilman David Meyer then made a motion to approve the ordinance. However, adding that he'd "personally like to see a total ban on tethering in the City," he amended his motion to reduce the allowable tethering period per day to just one hour. Councilman Michael DeMarco seconded it.
Councilwoman Janice Miller favored three hours, saying some people "may have physical issues precluding them" from moving their animals to get exercise. But Councilman Jeff Greenfield suggested authorizing the city manager to extend the one-hour provision for those physically unable to comply with it. And Loftus said they should "leave it at three hours and see how it plays out."
They then voted 3-3 on the amendment, with Silverthorne voting for it to break the tie. The main motion to have the ordinance, at all, also passed.
Afterward, Parmly's wife Natalia, of the Fairchester Woods community, said that "several years ago, there was a dog tethered all the time in our neighborhood. That was the impetus for all of this, and Sue Bell – who's also with the Virginia Humane society – was a great help to us."
Delighted with the Council's action, her husband Tim said, "I'm so happy that this happened and, hopefully, it'll set up a domino effect with other jurisdictions in Northern Virginia. And I'm pleased that they offered an amendment because tethering is just terrible for dogs, and one hour is plenty. Dogs need to be treated like family, and Chief Pardiny has been a wonderful supporter of this. It's a great victory."