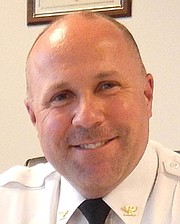 Bicycle-riding children in the City of Fairfax will now be a bit safer, thanks to a helmet ordinance just adopted by the Fairfax City Council. Under the new law, all bicycle riders ages 14 and younger must wear protective helmets.
After being asked why the City didn't have a bike-helmet ordinance like other Northern Virginia jurisdictions, Mayor Scott Silverthorne had Police Chief Carl Pardiny research the matter. In January, Pardiny told the Council his findings and recommended it adopt an ordinance, too.
He presented information showing that helmets save lives and prevent injury, and the Council agreed. And at its Feb. 9 public hearing on this issue, the members adopted an ordinance that is enforceable on any highway, sidewalk or public bicycle path.
According to the new law, children must wear helmets meeting the Consumer Product Safety Commission standard when riding or being carried on a bicycle or an electric power-assisted bicycle. Violations are punishable by a ticket carrying a $25 fine. But the fines are suspended for first-time violators and for those who purchase or acquire the required type of helmets before their fines are actually imposed. And the Police Department has already purchased bike helmets to provide to children in need.
"The civil penalty is prescribed in the ordinance's enabling legislation and cannot be removed," said Pardiny. "A parent or guardian will receive a copy of the violation summons given to the child, and there'll be a 60-day grace period in which we won't enforce this ordinance."
Resident Todd Delap asked why it only goes up to age 14, and not 17, and Silverthorne replied that "the enabling legislation from Richmond says '17.'" Delap also wondered why the law would not apply to "tricycles and other things kids ride on," as well. And Pardiny explained that "the enabling legislation doesn't include children's toys not using electric power."
"I'm a cyclist and business owner in the City, and I support what you're doing," resident Peter Edwards told the Council. Referring to studies conducted by the National Institutes of Health (NIH), he said it concluded that "wearing bike helmets results in a 63 to 88 percent reduction in the risk of head and brain surgeries."
And, added resident Diane Henn, "Hopefully, once children are required to wear helmets, their mothers and fathers will, too."
Councilman David Meyer made the motion to approve the ordinance and Councilman Michael DeMarco seconded it. "I think [this] is a step in the right direction," said Meyer. "Helmets reduce the number and severity of [bike-riding] injuries. I think this is a prudent step in protecting young people – and it might lead to a new, normative behavior in a whole, new generation of children."
"I support it, but I'm concerned about 'criminalizing' this behavior toward children getting tickets from police officers," said Councilwoman Nancy Loftus. "But I'm supportive of the waiver of the penalty if they acquire a helmet."
Councilman Jeff Greenfield also expressed a concern. "I hope the police exercise discretion with kids when it comes to giving them a ticket," he said. "We want kids to be able to run to police, when they need to, instead of away from them." So, he told Pardiny, "You'll have to do some education to make children aware of this new ordinance."
The Council then voted unanimously to approve it. Afterward, Pardiny said, "I am pleased with Council's decision to move forward with an ordinance which is designed to prevent cycling-related head injuries in children 14 years of age and younger."
"Teaching our children the importance of bicycle safety – and getting them used to wearing helmets at a young age – is an important step forward in reducing the potential for traumatic brain injury and, of course, death," he continued. "The Police Department will continue working on our public-outreach efforts and educational campaigns focusing on topics like bike safety, and we look forward to hosting more Kids Safety events in the coming year."