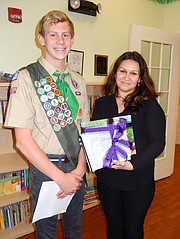 Eagle Scout projects are all about helping people, and Garrett Anderson's project certainly fits the bill. Thanks to his efforts, children staying at the Katherine K. Hanley Family Shelter now have 11 new and original books to read and enjoy.
The shelter's at 13000 Lee Highway in Fairfax, at the intersection of Meadow Estates Drive and Route 29, across from the Hampton Forest community. It serves mothers and young children and – although many of the women have jobs – they don't make enough money to have a home in this area. So the shelter takes them in temporarily and gives them guidance and help so they can eventually live on their own.
A Westfield High junior, Anderson, 16, belongs to Boy Scout Troop 1826 of the Church of Jesus Christ of Latter-day Saints in Centreville. And when he and his mom were discussing possible Eagle Scout projects he could do, he decided to incorporate something that would reflect his love of drawing.
"Children's books have lots of illustrations, so I thought it'd be cool to do a project involving art," he said. "My mom regularly donates our old clothes to the shelter and, when I was researching possible beneficiaries, she mentioned the shelter. She said it's for moms and children; and I realized, if they were living there, they'd need stuff to do, such as reading books."
But Anderson didn't want to just buy some – he wanted to create them. "I knew it would be more difficult, but I could also get involved and illustrate one book myself," he said. So at the beginning of summer, he emailed flyers asking people to participate and kept in touch with all the authors and illustrators.
"The authors emailed their books to me, and I'd review them and email them to the illustrators, who'd send me their illustrations," he explained. "Then I used Shutterfly, put the pictures on different pages, cropped the words that would fit under the pictures and created the books. My dad and cousin helped so it wouldn't take so long to do them all. Each one took 45-60 minutes, depending how long each book was."
ANDERSON illustrated a book called, "The Pig and the Octopus," written by his dad's cousin. "The story's about a pig walking on a beach and meeting an octopus," he said. "The octopus thinks the pig is dirty and not smart, and the pig is surprised to see the octopus on the beach, out of the water. It's about prejudice and not stereotyping others."
The books ranged from 20-30 pages, with the stories ranging from one sentence on a page to whole paragraphs. So there's a variety of books for readers of different ages and interests. For example, "A Dragonella Story" is a fantasy written by an 11-year-old; while "Little Jason's Big Adventure," which is more realistic, was written by an adult. And "It's a Faire Day" takes place at a Renaissance fair.
"The books turned out way better than I thought they'd be," said Anderson. "Some of the illustrators were art majors and did really high-class work. And the stories all had good flow for toddlers through elementary-school ages."
Once school started in September, it was tougher for him to supervise and coordinate the project because his time was limited. Besides doing schoolwork, he plays alto sax in Westfield's marching band, is on the school swim team and swims six mornings a week for a USA League club team.
"But once the books all came in, I felt extremely accomplished," said Anderson. "All this hard work paid off, and I was excited." He said the experience taught him good organizational skills and flexibility. And, he added, "It makes me feel like I have a purpose in my community – which will help me later on in life."
In front of his parents and brother and others, Anderson officially presented the books to the shelter on Nov. 3. "I received financial donations from friends and family all over the country to produce these literary works of art," he said. "I can't thank enough those who gave their time, talents and money. It is with great pride that I hand over these 11 books, and I hope they'll provide enjoyment to those who'll read them."
RECEIVING THIS GIFT was Nurjan Ahmedova, the shelter's community coordinator. "Thanks to Garrett, we have these wonderful, beautifully illustrated books donated to the shelter," she said. "The children are going to appreciate them; they can read the books, themselves, or a parent or volunteer can read to them."
She was also pleased that each story is interesting and educational and has a message about various concepts, such as forgiveness. "Being homeless is very tough, especially for the children," explained Ahmedova. "And hopefully, they can take the messages of these books and carry them with them throughout their lives."
The shelter often contains as many as 45 children. When the books were presented, 32 were living there; their ages ranged from infants to age 17. "We get a lot of help from the Scouts and we truly appreciate it," said Ahmedova. "The children are going to love these books and will feel special to have them."
One of the authors was Anderson's cousin, Amy Baldwin, who wrote a story called, "Little Jason's Big Adventure." She, too, was at the presentation and wrote a book because she "wanted to help Garrett and the children here. I wrote a family story based on true events and it was fun. It's my first book and my sister-in-law illustrated it because it was about her brother. It was exciting to see my words and her pictures come together."
"It feels great to have my book at the shelter," continued Baldwin. "When I told my 6-year-old daughter what a homeless shelter was, she ran to her toy box and got some toys to donate."