Photo Gallery
Chamber Salutes New Chairman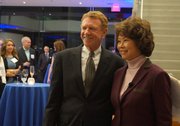 Click Photo for Flash
The Alexandria Chamber of Commerce officially welcomed United Way Worldwide Chief Operating Officer Joseph V. Haggerty as its 2014 Chairman of the Board at the Chairman's Community Reception Jan. 23.
"Tonight is all about the chamber and us working together," Haggerty said. "We had a very successful year in 2013 under John Renner's leadership. In 2014, we will build on that momentum and continue to advocate for the business community."
Presented by SunTrust, the sold-out reception at the United Way Worldwide Headquarters in Old Town was a departure from the traditional formal Chairman's Gala and featured former U.S. Secretary of Labor Elaine Chao as guest speaker.
"Joe Haggerty knows how to bring everyone together to solve tough community problems," said Chao, who headed United Way of America from 1996 to 2001. "That's where the chamber comes in. It's about people coming together to find solutions."
Attendees included U.S. Rep. Jim Moran (D-8), former governor Jim Gilmore and Ambassador Don Beyer. The networking event featured a jazz lounge, outdoor cigar bar and appearances by Washington Nationals mascot George Washington and Alexandria Town Crier Ben Fiore-Walker.
"This room is full of employers and job creators," Chao said. "You are the ones offering hope and opportunity to workers in Alexandria. Thank you for what you are doing and know that working together you will bring wonderful things to this community."