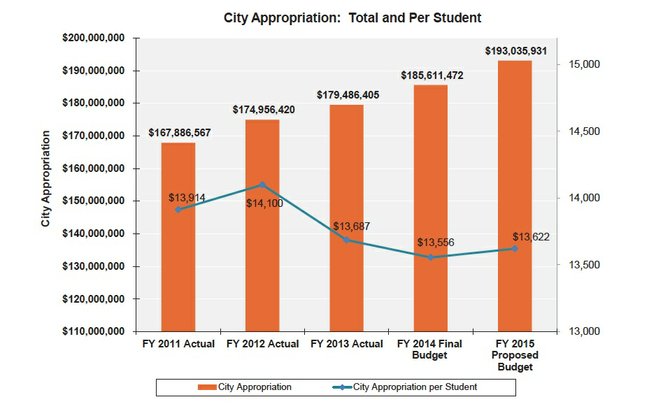 Budget Drivers
$4.3 million: Back in December, outgoing Republican Gov. Bob McDonnell proposed an increase to the rate the school system will need to contribute to the Virginia Retirement System. School officials are expecting their contribution to increase from 16.66 percent to 23.20 percent.
$2.8 million: To meet annual recurring requirements for maintenance and operation, the superintendent is proposing a plan to upgrade HVAC systems, maintenance contracts, software, electrical services and natural gas. This includes increased cost of leasing office and instructional space.
$1.6 million: The number of students in Alexandria who speak English as a second language continues to grow, which means that the division is planning to invest money for English Language Learning teachers. The superintendent's proposal adds 21.5 positions to ensure that middle schools are staffed at a minimum of six teachers for each school.
$1.5 million: The superintendent's proposal includes 20 reserve positions, which can be used to meet changes in enrollment, course registration or student needs. The line item includes 12 positions for general reserves and 8 positions for special education.
Alexandria City Public Schools is in a state of flux. School Board members are conducting a national search for the next superintendent as students are flooding into the city's classrooms. Meanwhile, interim superintendent Alvin Crawley is proposing a 3.3 percent increase over last year's budget, adding $8 million to the existing $235 million operating budget. That's a 21 percent increase compared to 2010, a dramatic increase at a time when many school systems across the country have been forced to make cutbacks because of the Great Recession.
"Whether you have children in our schools, grandchildren in our schools or no children in our schools, your investment in our students is an investment in the vibrancy of the city of Alexandria," said Crawley at the conclusion of his budget presentation to School Board members last week. "Now is the opportunity for all of us to stand up and be a champion for our students."
One of the challenges for school officials this year is the dramatic increase in enrollment, a trend that began in 2007. Next fall, school leaders estimate, enrollment will exceed 14,000 students. That's an increase of more than 500 students compared to this year. And the fastest growing segment is students who live in poverty. Almost 60 percent of the city's public-school students live in poverty, the highest percentage in the region according to statistics compiled by the Washington Area Boards of Education. That means school officials must put together a budget during a time when resources are scare and difficulties are growing.
"I can feel the passion around this," said School Board Chairwoman Karen Graf. "We have a very tough job."
COST PER PUPIL in Alexandria is more than $17,000, one of the highest in the region. Only Arlington County has a higher cost per pupil at more than $18,000 per student. The vast majority of the school system's budget, more than 85 percent, is salaries and benefits. And the chief source of revenues is Alexandria taxpayers, who fund the vast majority of operations at the school system's headquarters on Beauregard Avenue. Crawley's proposed budget asks for a 4-percent increase in the appropriation from City Hall, adding more than $7 million to the $193 million transfer.
"The bottom line for ACPS is that there is a funding gap," said Crawley. "Funding less than the requested level will result in additional cuts in services to our students."
One of the interim superintendent's policy recommendations could budget savings in the future, although it's not part of the proposal he outlined last week. Crawley wants to ditch former Superintendent Morton Sherman's system of separating the two middle schools into five separate institutions. The schism came at a time when Sherman was beginning his controversial term as the school system's chief administrator, and parents have been complaining about it ever since. Now, School Board members are about to consider moving back to a middle school organization that has one school at each of the two buildings.
"I think it was a lot better before the reorganization," said Leslie York, parent of two students at Hammond, in an interview last year. "In my opinion, it's a bad idea to mix sixth graders with seventh graders and eighth graders because the older kids are a bad influence."
THE CAPITAL BUDGET proposal includes several large-scale projects in the coming years, all of which are designed to meet the needs of a rising school enrollment. The first large scale project is at Patrick Henry Elementary School, where school leaders are still trying to figure out if they should demolish and start over or renovate the existing structure. Whatever they decide, funding for the $41.5 million project is expected to start this year. The second is a new school building for Cora Kelly, a $28.5 million project that would open in 2020. A third large-scale project in the capital-improvement program would be to build a brand new elementary school at a site that has yet to be selected. The cost for that is expected to be $52.4 million, and it would open in 2023.
"We still need to determine where the trends are leaning in terms of whether it should be an east side school or a west side school," said School Board member Bill Campbell, whose district is on the east side. "It will probably be on the west side."
At the end of his presentation to School Board members last week, Crawley warned that funding less than his request would mean cuts to instructional supports and services to schools. He also suggested that might mean increased class size. School Board members have a number of work sessions before they vote for a budget on March 6.
"When facing increasing enrollments, aging facilities and a need to support and challenge all students now more than ever before, we have put our money behind our commitments," concluded Crawley. "Moving the division forward in preparing students for the 21st century is our goal in developing this budget."