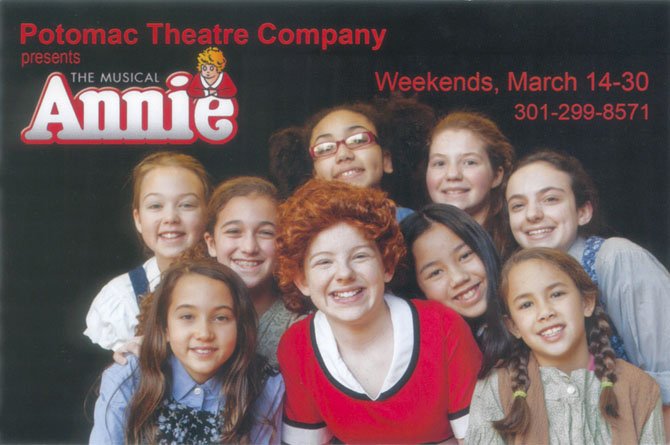 Grand Finale: "Annie"
Call Potomac Theatre Company at 301-299-8571 or visit www.potomactheatreco.org.
Performances at Bullis School, The Blair Family Center for the Arts, 10601 Falls Road
Friday and Saturday, March 14 and 15, 7:30 p.m.
Sunday, March 16, 2 p.m.
Friday and Saturday, March 21 and 22, 7:30 p.m.
Sunday, March 23, 2 p.m.
Friday and Saturday, March 28 and 29, 7:30 p.m.
Sunday, March 30, 2 p.m.
Director: Ron Sarro
Music Director: Webster Alexander Rogers Jr.
Choreographer: Trish Townsend Baker
Producer: Tammi T. Gardner
Potomac — The Potomac Theatre Company's 25th Silver Anniversary Season will also be its last.
"We're going to have to close our doors," said board member Carole Dell. "It's really quite sad."
The local theatre company will raise and lower its curtain for its final performances with its production of "Annie" in March at the Bullis School's Center for the Performing Arts.
"It's bittersweet because some of us have been working on this the entire time," said Elie Pisarra Cain. "We're all broken hearted, but we have to look at it realistically."
Some Past Performances
"Murder on the Nile" (Winter 2011-2012)
"The Music Man" (Fall 2011-2012)
"The Mousetrap" (Winter/Spring 2010-2011)
"The Mikado" (Fall 2010-2011)
"Last of the Red Hot Lovers" (Spring 2009-2010)
"Snow White" (Winter 2009-2010)
"It's Beginning to Look a Lot Like Christmas"
"Don't Dress For Dinner" (Spring 2008-2009)
"RA&A a Musical Adventure" (Winter 2008-2009)
"Scrooge! The Musical" (Fall 2008-2009)
"Nunsense!" (Fall 2006-2007)
"Cinderella" (Winter 2005-2006)
"Annie Get Your Gun" (Fall 2005-2006)
"Steel Magnolias" (Spring 2004-2005)
"Once Upon a Mattress" (Fall 2004-2005)
"The Dinner Party" (Spring 2003-2004)
"Sound of Music" (Fall 2003-2004)
"Amadeus" (Fall 2002-2003)
Patti Warner and Nan Munsing founded the company and "25 years of history happened," said Pisarra Cain. Warner might fly in to see one of the company's final performances.
So for the next month, the show must go on.
"We worked hard to make it as good as it was," said Pisarra Cain.
The costs of putting on quality shows became prohibitive. Even when the shows sold out, it still didn't cover the costs. Technical expenses, building sets all added up.
Over the years, Potomac Theatre Company performed in many adapted venues before finding a home at Bullis. "Everybody is jealous of our space," said Pisarra Cain. Previous venues included Connolly School of the Holy Child, Potomac Community Center and Our Lady of Mercy.
Dog Auditions
Potomac Theatre Company is holding dog auditions for upcoming production of "Annie."
Requirements: Dog should be medium-sized, well behaved and have obedience training, needs to be great with kids and very gentle. Handler must stay with dog at rehearsals and show dates.
Any questions can be directed to Ron Sarro, director at ronsarro@msn.com
Auditions: Saturday, Feb. 8, from 9 a.m.-10:30 a.m.
Audition spaces limited to 10 dogs.
Sign up at www.potomactheatrecompany.org
"We've been very fortunate, because it's hard to find a place to perform," said Pisarra Cain.


FOR THREE WEEKS in March Annie will sing her hope, "The sun will come out tomorrow, bet your bottom dollar that tomorrow, there'll be sun."
"It's going to be a zenith of a show," said Pisarra Cain. "It's been a wonderful run."
Dell, who volunteers with Pet Connect, said the company is currently looking for a 40-pound dog to play Sandy. They need a well-behaved, good-natured dog to work with the eight girls on the stage. Dog auditions are Saturday, Feb. 8.
"We have an enormous following of people who love seeing great plays, well acted, that aren't very far away," said Dell.
"It's an enormous loss," she said.