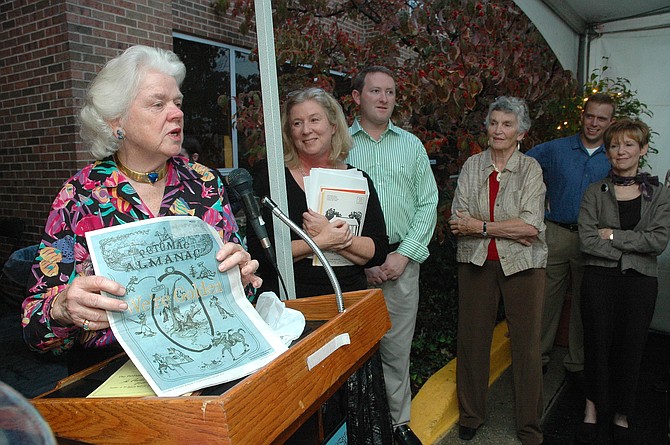 Eleanor (Elie) McConihe Cain, known to many long-time residents as the mayor of Potomac, died on Tuesday, Jan. 19 of complications relating to Covid-19. She was a community activist and businesswoman, and so much more.
Some of those who knew and worked with Elie over the years recalled her many roles and how she brought others into the task of improving life in Potomac.
"It was so sad to hear of Elie's passing as it marks the end of a chapter of Potomac history," said Karin Currie, of Potomac Friends of the Library. "I'm sure you will receive many tributes to Elie — her love of and involvement in so many activities benefiting Potomac is legend.
"For me, an evening 30 years ago stands out. Barbara Harr, the Potomac Library Manager, had been trying to talk me into starting a Friends of the Library Chapter — a first in Montgomery County. I was reluctant, never having done anything like that and with many other obligations. She invited me to accompany her to a Potomac Chamber of Commerce mixer and there told Elie of her wish. Before I knew it, Elie had enthusiastically volunteered herself for a not-yet-existing Board of Directors. She reached out her arm to Dr. Tris Kruger, who was standing nearby, and urged him to do the same. He agreed and my goose was cooked — how could I then not proceed! Elie lent her support and wisdom to our board for many years and I treasure my time spent with her."
Adam Greenberg: "In the early days of my career I was lucky to meet Elie, and create a long lasting friendship. She taught me the importance of community and giving back to the people who give so much to us. I have guided most of the next 25+ years with in mind. I will miss Ellie and Potomac now has our eternal "Mayor."
Harvey Levine, who worked with Elie at the Potomac Theatre Company, remembered:
"Elie was a positive and powerful force in Potomac. She organized the annual Potomac Day celebrations each October. She was one of the driving forces behind the Potomac Theatre Company.
"Anyone who has ever worked with the Potomac Theatre Company will remember Elie. She did whatever was needed. The first time I met Elie, she was painting sets for their production of The Wizard of Oz. I was wandering around, trying to figure out how to photograph the show and probably looking slightly bewildered by all the actors and crew racing around, rehearsing lines, moving props, and having intense discussions with the director and stage manager. Elie took me aside and patiently explained what each person was doing and why.
"Later, when I joined the PTC board and subsequently became their treasurer, Elie helped me understand the administrative and internal working of the theater company.
"I'm sure the entire Potomac community will miss Elie. I know I will."
Born in Washington, DC in 1938, Elie moved to Potomac, with her parents in 1940 and remained there for the next 77 years until moving to Fox Hill in Bethesda shortly before her 80th birthday.
Potomac was horse country in those days, and in her early years, Elie was an avid horse woman, a member of the Potomac Hunt and a regular participant in the annual point-to-point races on her beloved mare, Blondie, according to a family obituary.
She graduated from the Holton-Arms School in 1956 and Skidmore College in 1960.
In her later years Ms. Cain was known as the honorary mayor of Potomac where she ran a business (On the Left Bank) with her mother, Marguerite H. McConihe, for over three decades. A member of the board of the Potomac Chamber of Commerce for 25 years, Ms. Cain served as its president for 3 years in the mid-1980s and was later honored as Citizen of the Year, and later still honored with the chamber's Lifetime Achievement Award. In her role with the Chamber, Ms. Cain was one of the founders of the Potomac Day celebration and organized the annual parade for over 20 years.
A long-time board member of the Potomac Theater Company, Ms. Cain served as its president for almost a decade and was instrumental in its 10-year run as the resident theater company at the Bullis School.
Elie founded and served as the first president of The Friends of the Historic Great Falls Tavern and, along with her husband Ted, played a key role in the fundraising for, construction and donation of the canal boat, Charles F. Mercer to the Chesapeake & Ohio Canal National Historical Park. A member of the founding congregation of St. Francis Episcopal Church in Potomac, Ms. Cain later served on the vestry and remained active with the church until her passing.
In addition, Ms. Cain was a board member of the Bullis School in Potomac and the Holton-Arms School in Bethesda, (where she was involved in advocating for LGBT students). Long active in the West Montgomery County Citizens Association, Ms. Cain was member of The Community Advisory Committee to the Transportation Planning Board for the Washington metropolitan region.
Elie was not known only for her formal roles with organizations dedicated to civic pride, she, and the friends she encouraged to join in, added special touches to make Potomac a better place to live.
Guy Semmes recalls more than one instance:
"Potomac will never be the same without Elie. She shared herself so generously with Potomac residents. … She was so dedicated to making the Village a place we could be proud of and feel an important member of.
Elie was so generous with her support to me on large projects and small. And she was extremely effective at pressuring you to help when she needed it and you could not say no. I can remember many last minute activities. Like installing banners for Potomac Day or the time Elie used my pick up so that she and my wife Dana could pick up 40 huge planters (on sale of course) at Price Club, then deposited them all over Potomac. The Garden Club planted them and still maintains them today I believe. Nothing daunted her. She also would throw herself into other people's projects and often helped me in setting up tables and a performance platform for the annual Travilah Oak Day Celebration at the Potomac Oak Center," Semmes said. "Sometimes she seemed able to be at many places at the same time: running the Potomac Day Parade with [her husband] Ted, giving testimony at the County Council meetings, planting a garden at the Great Falls Inn, organizing events for the Potomac Chamber of Commerce, organizing a flea market, acting in the Potomac Theatre and I almost forgot starting the On the Left Bank. It makes your head [spin]. It would be impossible to name everything she did."
Bruce Adams, former County Councilmember, former director of Montgomery County Office of Community Partnerships, founder of Bethesda Big Train baseball, grew up as a neighbor.
"I can't imagine it was easy to live up to the legacy of [her parents] F. Moran and Margo McConihe. Mr. McConihe was stern and proper and businesslike. Mrs. McConihe was, well, marvelously free spirited. Because of Mr. McConihe, Potomac had a bank, a church, a shopping center, and a hunt club. Because of Mrs. McConihe, Potomac had pizazz," said Adams. "They were among the very most important of Potomac's founding mothers and fathers."
Elie had the very best qualities of both of them, Adams said. "For nearly half a century, Elie worked to uphold the values and legacy of her parents. With civic achievements from theatre to the Chamber of Commerce to the Great Falls Tavern, Elie was Potomac's number one cheerleader and most admirable servant leader.
"One of the most memorable and awkward moments of my public service was going before the Potomac Chamber of Commerce while seeking a seat on the Montgomery County Council in 1986 and having to confess I had bitten their president. Elie had been my babysitter and at a tender age I had apparently not yet learned the finer points of conflict resolution. The always good natured Elie, of course, smiled and made an effort to convince her members this should not disqualify me from public office. As so many who worked with her for all these decades to preserve her beloved Potomac know well, Elie always had your back."
Ragan Adams, sister to Bruce, recalled:
"Elie and I were both the only girls in the families of two Potomac female legends, Margo McConihe (Elie) and Polly Adams (me). Margo and Polly planted and tended community as if each individual was a sacred seed. Elie continued the tradition in her own special way fitting the enormous changes the area underwent. She kept watch on and tended the heart of the community."
Elie was the loving wife of the late Theophilus "Ted" Cain, mother of Susan Pisarra Gadwah (the late Ronald Gadwah), Michael Stuart Pisarra and Anthony Randall Pisarra (Tricia), step-mother of Bruce Cain (Deborah), Marilyn Cain Browning (Donald), Marcia Cain, Rick Cain (Toni) and David Cain, grandmother of Cory Pisarra, Zachary Pisarra, Matthew Browning, Phillip Browning and Dawn Reid; sister to Michael McConihe (Bruce) and aunt to Frances M Botsford and Marguerite McConihe,
Owing to the pandemic, there are no current plans for a service, but a memorial will be held at some point this summer at St. Francis Episcopal Church when it is possible to have an outdoor event.
In lieu of flowers the family is requesting that donations be made in Elie's name to the Friends of the Historic Great Falls Tavern: http://fhgft.org/youcanhelp.html.