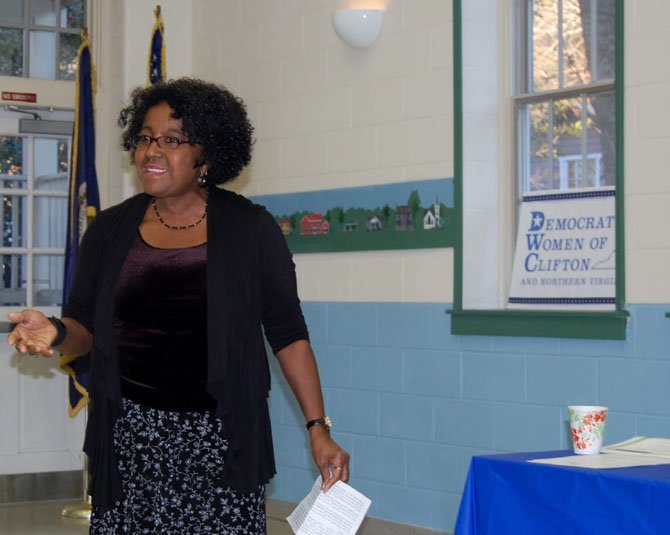 In Fairfax County, there are 265 children in Foster Care. That number may sound like a lot, said Nannette Bowler, director of Fairfax County Department of Family services, but that number was at over 3,000 children 10 years ago.
Still, there are children who need permanent homes, Bowler told members of the Democratic Women of Clifton and Northern Virginia at a recent meeting.
This fact and others surrounding foster care and adoption in Virginia led Jane Barker, chair of the Democratic Women of Clifton and Northern Virginia, to host state and county officials working to place children in permanent homes at their Jan. 19 meeting.
The event, "Our Children: Fostering, Adopting and Mentoring in Virginia," gave attendees the opportunity to learn more about helping children in Fairfax County.
Barker, who along with her husband state Sen. George Barker, has been a foster parent to 13 children, said the event allowed for the community to learn more about foster children and the procedure involved in adopting or becoming a foster parent.
"This is an issue we need to take seriously," Barker said. "You never know who could help with this."
The event started with a presentation from Paul McWhinney, the director of Family Services for the Virginia Department of Social Services. McWhinney shared information on the state of foster care and adoption in Virginia.
In May of 2013, previous Gov. Bob McDonnell launched the Virginia Adopts campaign, which aimed to have 1,000 children adopted in Virginia.
Although the campaign was successful, McWhinney said there is still a great deal of work to be done.
"This is not yet over," McWhinney said.
In Fairfax County alone in 2013, there were 18,376 calls reporting possible child abuse and neglect, Bowler said.
Efforts in Fairfax County are focused on permanency, and Bowler said the goal is for children who enter foster care to be placed in a permanent situation within 12 months of entering foster care.
"Foster care is meant to be a temporary solution until a permanent family situation is possible," Bowler said.
Permanency is important for children who have been in foster care, but can be difficult to achieve for children between the ages of 12 and 17.
Older children between the ages of 12-17 make up the highest number of children in foster care in Fairfax County.
There is also racial disproportionality in the foster care system, with black and Hispanic families and children being overrepresented in the child welfare system, Bowler said.
According to Bowler, youth who age out of the foster care system who are not adopted face a number of challenges, including lack of education, economic hardship, and becoming a single parent.
Bowler shared information on how to become a foster parent in Fairfax County. Potential foster and adoptive parents must be 21 or older, legally married, divorced or single, and able to provide a safe and loving environment.
For Beverly Howard, the coordinator of Fairfax Families4Kids, the lack of permanency that these children face was the biggest challenge she faced when adopting foster children.
"One of the two girls didn't even unpack her trash bag with her clothes," Howard said. "At ages 8 and 9, they were very damaged after being in foster care for five years."
Adults who may not be able to adopt or become foster parents but still want to make a difference in a foster child's life can become a mentor through Fairfax Families4Kids.
"Not everybody is ready to adopt, but everybody has something to offer," Howard said.
Barker ended the meeting encouraging members to continue their advocacy efforts surrounding children.
"I don't think there is a more noble profession than helping children," Barker said.