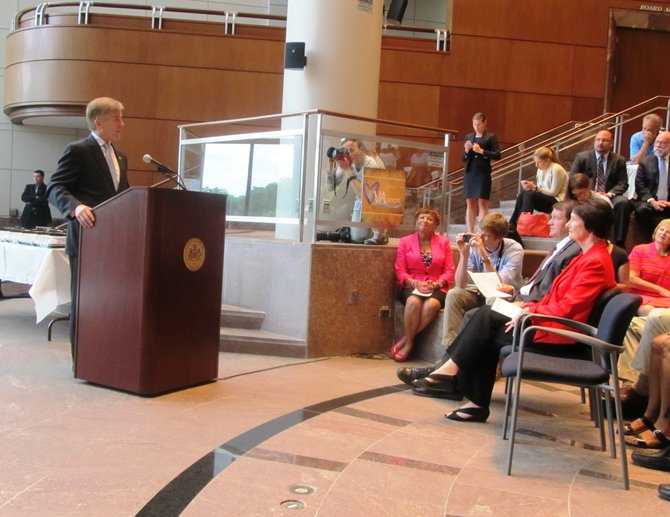 The atmosphere was festive as more than 100 people—including adoptive parents, children and state and local officials—gathered in the Fairfax County Government Center atrium Tuesday, July 30 to welcome Virginia Gov. Bob McDonnell (R) during the statewide tour to promote his "Virginia Adopts: Campaign for 1,000" initiative.
The goal of the campaign is to match 1,000 children currently in foster care with adoptive families. The governor launched the statewide campaign on May 17 from the steps of the Governor's Mansion during Virginia's Foster Care Month.
"Whether you're Republican, Democrat, pro-choice, pro-life, adoption can transcend those issues," McDonnell said at Tuesday's event. "Even in affluent place like Fairfax, there are children in need of loving homes."
McDonnell said the General Assembly provided $1.5 million for the campaign, and the money will be used to help prospective adoptive parents with medical and other expenses associated with adopting a child.
"I'm passionate about this," McDonnell said. "Children in foster care are there through no fault of their own, and just as much as any child, they deserve a loving, secure and stable family and home."
McDonnell noted that in 2012, 708 children were adopted from foster care in Virginia. He said that most of the 4,000 children currently in Virginia's foster care system are over the age of 10 and many a part of a sibling group. He also acknowledged the grim statistics for children who age out of the foster care system: within two years of aging out, about 25 percent will be incarcerated and 54 percent will be homeless.
"Of the 4,000 children in Virginia's foster care system, about 1,000 children are ready for, and eagerly awaiting, adoption," McDonnell said. "Each of these children deserves a secure, stable home environment. Together, we can help these children find loving families and make Virginia a better place."
Supervisor Pat Herrity (R-Springfield) and Chairman Sharon Bulova (D-at-large) sat with McDonnell and gave the welcome and closing remarks.
Herrity spoke movingly about his own experience as an adoptive parent. He and his wife, Nancy, adopted daughter Valeria in 2002 when she was 9 years old. She is now 21, and about to graduate from culinary school.
"As an adoptive parent this campaign is close to my heart," Herrity said. "By matching kids with adoptive families we are giving these children a shot at a life, a chance to stay in education, and a place to call home."
Herrity said he and his wife first met their daughter when she was playing with his sister's children. She had been adopted from Russia by a local couple, but that adoption wasn't working out.
"It was a bad situation. We met her and we started having her over to our house. The last thing I thought I'd be doing that summer is adopting a child," Herrity said. "There was a need and somebody needed to step up and help this girl.
"When she came into our lives, she didn't know the days of week or how to tell time," Herrity said during the event. "By the end of this year, she will have graduated from Indiana University of Pennsylvania's Culinary School."
Herrity admitted it was difficult for him to say "adopted daughter."
"She's my daughter, period. I asked her permission before I publicly talked about her. She said if I can help somebody else get adopted, that's okay."
Nannette Bowler, director of the Fairfax County Department of Family Services, served as mistress of ceremonies for the event.
"The Department of Social Services is grateful to the governor for his leadership in heightening the awareness of the great need for adoptive homes for our foster children who are available for adoption, yet do not have adoptive placements, particularly children ages 12 to 17 years of age," said Bowler.


Currently, about 300 youth in Fairfax County are in foster care, according to county Bowler, and when children cannot return home safely, county officials attempt to provide adoption or permanent-placement services for them.
"I think anytime we can bring this issue to the forefront, especially at such a high level, it can only help to get the word out about the dire need for the children to have a loving, permanent family," Bowler said.