Chamber's Board Installed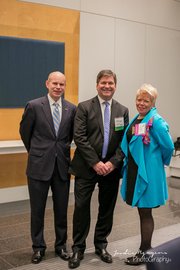 Greater McLean Chamber of Commerce 2014 Board of Directors
John Brough – Chain Bridge Bank
Marcus Simon – Delegate (D-Falls Church)
Monish Banga – Ross, Langan & McKendree, L.L.P.
Karen Briscoe – HBC Realty Group
Merritt J. Green – General Counsel, P.C.
Ryan Cash – Capital One Bank
Raj Mehra – Middleburg Bank
Rick Makely – Giant McLean
Gita Bhandari – M&T Bank
Dane Scott – Seasons 52 Fresh Grill and Wine Bar
George Sachs – McLean Community Center
Jon Wilkins – Bank of Georgetown
Bailey Hopple – The JBG Companies
Karen Sherwood – Nourish Market
Hundreds of McLean business leaders attended the 2014 Winter Gala on Feb. 8 for the Greater McLean Chamber of Commerce to celebrate a successful year and install the chamber's 2014-15 board of directors. Nearly all of the 14-member board returned from serving the previous year.

"Being part of the chamber board really helps to improve visibility for business, and it's a great way to give back to the community," said second-year board member Gita Bhandari of M&T Bank before the installation ceremony.
Chamber members also gathered at the Gannett Building in Tysons Corner to celebrate a successful year. Chairman of the Board John Brough, representing Chain Bridge Bank, congratulated the chamber for bringing in seven new member businesses, expanding professional development education programs, and partnering with the Small Business Alliance and Vienna Business Alliance in 2013 events.
Gov. Terry McAuliffe and U.S. Sen. Mark Warner sent messages of congratulations to the chamber's incoming board, read by chamber Secretary Karen Briscoe.
Former Redskin linebacker and four-time Pro Bowl selection Ken Harvey served as emcee for the gala, drawing laughs from the crowd while moving the evening along and introducing speakers. Gordon Reid, president of Giant's mid-Atlantic Landover division, delivered the keynote address for the theme "Leading Change Outside the Box."
Reid touched upon his experience working in Thailand, China and countries across Europe with colleagues who spoke different languages and did not share the same traditions, yet communicated well as business partners. "I recognized that there were others whose jobs and lives were very different, but shared the same passions and ambitions as myself, to feed their families and educate their kids," said Reid. He encouraged McLean's business community to cross cultural barriers with colleagues.
Brough also discussed the year ahead: "McLean will be undergoing an unprecedented amount of change and growth over the next few years with the Metro coming and big developments projects. It's our responsibility as business leaders to champion the interests of the business community and citizens of McLean."

The chamber's next major event will be the Women's Leadership Forum on Tuesday, April 29, a networking and women's leadership education event at Capitol One Headquarters in Tysons Corner.