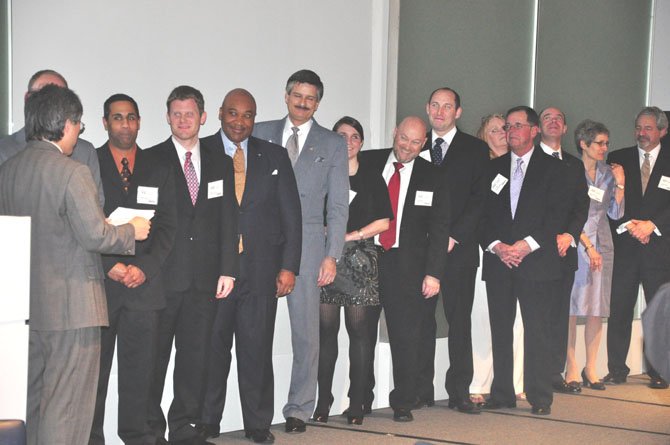 McLean — The Greater McLean Chamber of Commerce welcomed their 2012 Board of Directors at their Winter Gala at the Gannett Headquarters building Friday, March 2. The 11-member board, as well as Chairman Merritt Green, First Vice-Chairman John Brough and Second Vice-Chairman Marcus Simon were sworn in by James S. Cheng, Virginia's Secretary of Commerce and Trade.
2012 Board of Directors
Merritt Green, General Counsel P.C., chairman
John Brough, Chain Bridge Bank, First vice-chairman
Marcus Simon, EKKO Title, second vice-chairman
Sandy Wendler, Watkins Megan, treasurer
Joe Mastaler, Witt Mares Certified Public Accountants and Consultants, secretary
Ghassan Abukurah , A2 Design
Monish Banga, Ross, Langan and McKendree
Brian Callery, Edward Jones
Gary Dopslaff, TTR Sotheby's International Realty
Annie Draper, CarrWork Places
Michael Haddad, Capital One Bank
Carl Hairston, M and T Bank
Rick Makely, Giant
Sam Roberts, McLean Community Center
Sheri Sylvester, AdZig Logo Promotions
Jon Wilkins, Main Street Bank
Brad Williams, The Alternative Board
Marcia S. Twomey, president
Cheng mentioned that Governor Bob McDonnell has named 2012 the "Year of the Entrepreneur," and will be featuring entrepreneurs throughout the state on his website.
"We're going to go around the commonwealth celebrating entrepreneurship and making connections across the state," he said. "I hope there will be many entrepreneurs right here in McLean that we'll be featuring."
Green, who is beginning his second year as chair, said he wanted the McLean Chamber to become the "most dynamic chamber" in the area.
"We educate our members, we have to put on excellent educational programs for our members so they learn how to prosper. We promote our members, we need to network for them and provide opportunities for them to meet with wither businesses and promote and grow their businesses," he said. "We have to take a leadership role in advocating for our members. We must look and work outside the box to create opportunities and synergy within McLean and in the greater community."
The keynote speaker for the event was Willie Jolley, an award-winning speaker, author, television and radio personality. He said, "The chamber, they're my type of people, the people who are entrepreneurs, taking risks and reaping rewards," he said.
Jolley recalled a blow-up punching bag that he had when he was a child, and no matter how often he and his brother tried to sneak up on it and hit it, it would always pop back up. He said business leaders could learn from that attitude.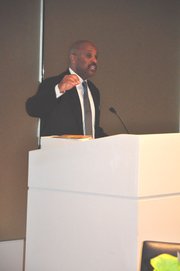 "Life is going to hit you and knock you down in business. You'll have people who won't do what they say they'll do and other challenges. But you have to keep bouncing back up," he said. "Because eventually life will leave you alone and find a wimp it can keep down. But when you least expect it, life is going to come up on your blind side and hit you with everything it has. Those are the moments you have to look down deep and say, 'you can knock me down, but you'll never keep me down.'"
More information on the Greater McLean Chamber of Commerce can be found at www.mcleanchamber.org.