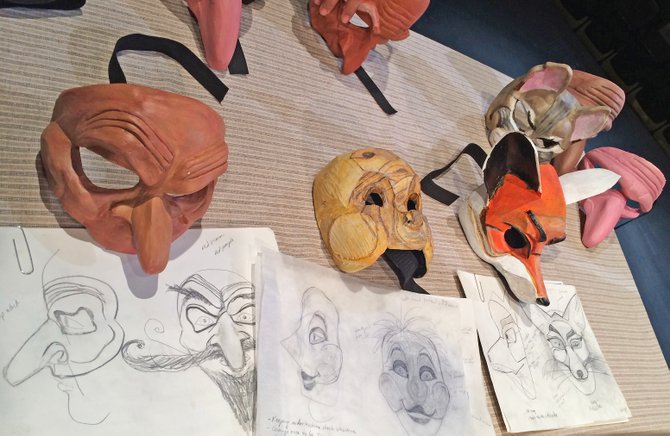 Local family theater is getting a big boost. Fairfax County's newest professional theater troupe, NextStop Theatre is partnering with the Faction of Fools, a Helen Hayes Awardee for Outstand Emerging Theatre Company. They are co-producing an inventive take on the adventures of Pinocchio. The production will include live actors and puppets.
Where and When
"Pinocchio" co-produced by NextStop Theatre and Faction of Fools at Industrial Strength Theater, 269 Sunset Park Drive, Herndon. Performances: March 8-30. Saturdays 12 & 3 p.m., Sundays 11 a.m and 2 p.m. Tickets: $10. For information call 703-482-5930 or visit: http://www.nextst...">www.nextstoptheat...
Many may remember Pinocchio, the marionette who longs to become a real boy, from the Walt Disney animated feature that we saw as children and perhaps saw again with their own children and grandchildren. Pinocchio is the character whose short nose became longer when he was untruthful or under stress. Over time, he comes to learn about the love of woodcarver Geppetto and the meaning of family.
For its inspiration, NextStop and Faction of Fools are delving deeply into the original Carlo Collodi children's novel written in 1883.
NextStop artistic director Evan Hoffmann said, "Faction of Fools is a company that I have long admired both for their wonderful artists and the unique joy created in their work. It is an honor to work with them." The co-production will introduce audiences to a performance style called Commedia dell'Arte which involves the use of comic, hand-made masks worn by the live actors to depict characters.
Hoffmann noted that "Pinocchio" has not been produced in the over 20 years that NextStop and the former Elden Street Players have been producing shows for children and families in Herndon.
"Pinocchio" has been adapted and will be directed by Paul Resiman. He is a founding member of the Faction of Fools. Resiman "was drawn to the project, not as children's theater, but as family theater for the entire family to enjoy." The performance will be about one hour.
"The new adaptation will bring out what many recall, but also things they may not know from the original Collodi book," said Resiman. "There will be surprises, but Jiminy Cricket will be there."
"Pinocchio has a heart to it. It is about being a little boy; not a bad boy but just a boy who is mischievous and gets mixed up in adventures on his journey," added Resiman. "Many of the play's multiple characters will be depicted through hand-made masks worn by the live actors." There will also be original music by Jesse Terrill.
Hoffmann urged families to see "a fresh, playful and hilarious take on one of the most classic fairytales of all time."