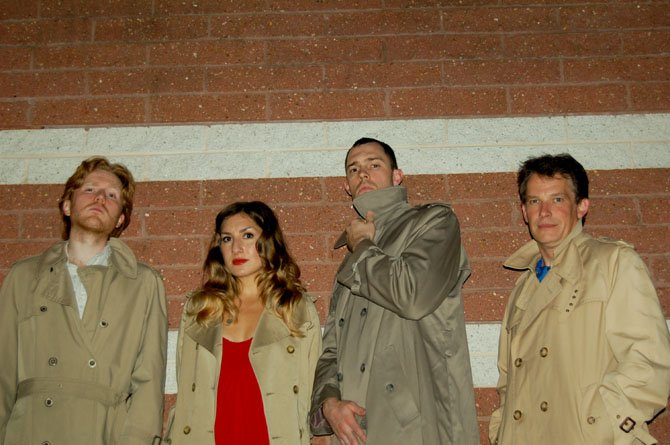 By David Siegel
The Connection
"Hitchcock meets hilarity" is the way cast member Nick Rose describes "The 39 Steps," the first production of Fairfax County's newest professional theater company, NextStop Theatre in Herndon.
The play calls for the classic adventure film "The 39 Steps" to be performed with a cast of only four in over 140 different roles. With quick changes and played mainly for knowing laughs, the script is full of references and puns on numerous Alfred Hitchcock films.
"We have assembled a very special and unbelievably talented cast for our first production as NextStop Theatre Company," said Artistic Director Evan Hoffmann. "The show is a love letter for audiences. It is something familiar, but with an unexpected delightful take-off of film noir."
"The 39 Steps" mixes the Hitchcock classics with plenty of Monty Python as four actors take on more than 140 characters. They move about England and Scotland, as they meet their share of murder, high-speed chases, mistaken identities, espionage and, of course, romance. The show was adapted by Patrick Barlow from the original novel by John Buchan and the Hitchcock movie.
Where and When
NextStop Theatre presents "The 39 Steps" at Industrial Strength Theater, 269 Sunset Park Drive, Herndon. Performances: Sept. 26-Oct 20; tickets: $25-$27; show times: Thursdays at 7:30 p.m., Friday and Saturdays evenings at 8 p.m., Sundays 2 p.m. and 7 p.m. Call 866-811-4111 or visit http://www.NextSt...">www.NextStopTheat....
James Finley, most recently in Keegan Theater's "A Few Good Men," plays the leading man, key to any Hitchcock movie. He described his character as the "quintessential leading man, but done with a wink and a nod. The show is frenetically paced; fast and funny. A great evening of entertainment for the audience."
Nick Rose, a 1988 graduate of Herndon High School and graduate of James Madison University, plays numerous characters in the production. He assisted with the original founding of the Elden Street Players some 25 years ago and is now "pleased to return and be in the first production of the new NextStop Theatre. It is wonderful to be back and performing in my old home town." He normally performs with the professional Cincinnati, Ohio Shakespeare Company.
Evan Crump, known to local audience for taking on off-center, unusual characters with delight will do so once again. "These roles seem to find me, and I love them." Emily Levey, who has performed with the likes of Studio Theatre, will play the three beautiful women the hero encounters during his adventures.
"The 39 Steps" is a high-wire act farce; a pastiche of serious classic movies played with delight and twinkling eyes. "An enjoyable time for everyone as we lovingly pay homage to Hitchcock," said Rose.