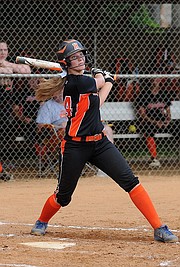 Bonnie Schipper spent four seasons as the catcher of the Hayfield varsity softball team. During her time as the Hawks backstop, Schipper was on two National District championship teams, caught the Neuhart sisters and hit a solo home run in Hayfield's upset win over Lake Braddock in the 2015 6A North region tournament.
As a senior, Schipper batted .431 with three home runs, 10 doubles and 28 RBIs. She was named team MVP, earned second-team all-conference honors in the competitive Conference 6, and helped the Hawks reach the region semifinals, falling one victory shy of qualifying for the state tournament. She received Hayfield's Hawks Claw Female Athlete of the Year award, and Fairfax County named Schipper Hayfield's Sportswoman of the Year. The 2015 Hayfield graduate will continue her softball career in the Ivy League at Columbia University.
Schipper recently participated in a Q&A via email with The Connection.
Connection: You'll be playing softball at Columbia University next season. What made Columbia the right choice for you?
Schipper: Most girls who end up playing college softball commit to their respective schools early in their senior year. At the end of October, I was the only senior in the Vienna Stars organization not committed to play in college. I was content with attempting to walk on at whatever school I ended up attending, and if that failed, I figured I could always play club. I was disappointed, but not devastated. In October, I had a free weekend, during which I ended up guest playing for a team from another organization because they needed a catcher. [Columbia] coach [Jennifer] Teague happened to see me play during a late-night game on Halloween, and the dreams I didn't even know I had come true. She was looking for a catcher, expressed interest in me, and the pieces of the puzzle just came together after that. Columbia has an amazing journalism program, and it's in New York City --- a place I've always loved and a city with tons of opportunities to explore. Everything I could ever want in a college I found in Columbia. Not to mention it doesn't have orange in its school colors --- I got enough orange spirit wear from Hayfield to fill five closets! I'm excited to replace the orange with Columbia blue.
Connection: What position(s) will you play?
Schipper: I was recruited as a catcher. However, for travel ball I also played a little bit of third base and outfield, and I've played every other position at some point in my life, so I'll play whatever position will get me in the lineup! You can probably expect to see me behind the plate, though.
Connection: What are you most looking forward to about going to college?
Schipper: I'm excited for all of the new opportunities. Columbia has one of the most diverse student bodies in one of the most diverse cities in the world, and there are so many new things to explore. It's true when they say it's the city that never sleeps! I think every college-bound senior is excited to live on their own and decorate their dorm room, and I can't say I'm any different there. As far as softball goes, I'm really just looking forward to playing. I love the coaches and all the girls on the team, and can't wait to get on the field with them and play some quality softball.
Connection: Was attending an Ivy League school a goal for you?
Schipper: I think attending an Ivy League school was a thought for everyone at some point in their life, but I never seriously considered where I wanted to go to college until junior year. As of October 2014, I wasn't even thinking about applying to any of the Ivy League schools. Then Columbia came along at a softball tournament on Halloween and it ended up being the perfect fit for me.
Connection: At what age did you start playing softball?
Schipper: I began playing tee­ball at age 5 and switched to softball as soon as I was old enough. As a little kid I played soccer and basketball, but by the time I was 10 I fully committed to softball and made my first travel team by the time I was 11.
Connection: When did you realize playing college softball was an option for you?
Schipper: College softball was always something I'd known about but nothing I'd really considered until my sophomore year of high school. Ninth grade was the first time I ever played alongside college-committed players, and I was intimidated by them, to say the least. Eventually I realized that girls aren't just born with letters of intent in their hands. After a lot of hard work, as a sophomore I made the Vienna Stars, made first-team all-conference for the first time, and was first noticed by college coaches. That's the year I realized that college softball really was a possibility for me.
Connection: What is the most difficult part of playing catcher? What is the most rewarding?
Schipper: I love building relationships with the pitchers that I catch for. The pitcher-catcher dynamic is unique to baseball and softball, and it's also one of my favorite parts of the game. The most rewarding part of being a catcher, though, is definitely the fact that I'm involved in every defensive play. Every pitch, every hit, every throw, I'm involved somewhere. There is never a dull moment behind the plate. At the same time, though, that is the most difficult part of playing my position. If a batter gets a hit, I can wonder if it's because I called the wrong pitch. If a ball gets thrown to the wrong base, I can assume I wasn't communicating to my teammates where the runners were. An old coach once compared catching to being Spiderman­ --- with great power comes great responsibility --- and while I'm involved in all the great plays on the field, I'm also involved in all the bad ones.
Connection: What is your favorite memory of playing softball at Hayfield?
Schipper: I have so many great memories from playing for Hayfield that it's hard to pick a favorite. I loved winning the district championship my freshman and sophomore year, and going 23-0 through district play in 2013. Getting to catch for both Taylor and Avery Neuhart was something I really enjoyed getting to do. My entire senior season was a great memory because no one expected us to get as far as we did. My favorite memory from this season was definitely beating Lake Braddock. LB has an incredible softball program, and for us to send them home in the first round of regionals was huge.
Connection: Did you play any other sports at Hayfield?
Schipper: I played four years of basketball --- one year on freshman and three on varsity --- and, as a senior, I attempted golf. I learned pretty quickly that it's not a sport you can pick up in August and master by October!
Connection: Do you have any game day superstitions?
Schipper: I don't exactly have any superstitions, but my travel coaches used to joke that I play better when I'm wearing orange. I loved Hayfield, and I always wore some amount of orange. Even though my travel team is navy and gold, I still wore orange cleats, bows, batting gloves, and used an orange bat. I guess the way some people have a lucky number (mine is 24, by the way), I have a lucky color.
Connection: What do you like to do when you're not playing a sport?
Schipper: I enjoy drawing and painting, and I like making graphics with Photoshop. During high school I spent a lot of time working on Hayfield's newsmagazine, and I plan to continue journalism in college. I like watching baseball too (go Nats!). I like to sing (though I'm not very good), and I was a part of my church's youth choir for six years, and performed in three countries during that time. I love theatre and see lots of shows, and I'm really excited to see Broadway performances during my time in New York.
Connection: Are you a pro sports fan? Which team(s) do you root for?
Schipper: I am a huge Nationals fan. I also cheer for the Redskins and the Wizards. I worked as an intern for the Mid-Atlantic Sports Network at Nationals Park last year and got to talk to a lot of the Nationals players before the gates opened on game days, and I was so excited to actually get to talk to them that I literally started crying in the middle of conversations --- the photos were worth it though! I've been a Nats fan since they first came to Washington, and my house is filled with team memorabilia.
Connection: What location is the farthest you've traveled from the Washington, D.C metro area?
Schipper: I would need to pull out a map to check the exact mileage. I visited Kiev, Ukraine, in the second grade, the Commonwealth of Dominica in eighth grade, Honolulu, Hawaii, in 10th grade, and I just returned from a trip to Montreal, Quebec. The farthest I've ever traveled for a softball event was Huntington Beach, California, this past January.
Connection: What's your favorite food?
Schipper: I love all food. I've always loved sushi and grape leaves, but chocolate, strawberry/cheesecake frozen yogurt and cheesecake are also contenders for my favorite.
Connection: Who is your favorite music artist? Why?
Schipper: Growing up I was a big fan of Hannah Montana/Miley Cyrus, and I'll admit I still have all of her songs on my iPod. The Beatles never get old, either. However, my walk-up song for all four years of high school was Apache (Jump On It) by the Sugarhill Gang. My dad and I always enjoyed watching the Lone Ranger television show together, and the song has a lot of references to characters from the series. Not to mention it's fun to dance
Connection: What is your favorite movie? Why?
Schipper: I've never been able to choose a favorite movie. I'm a big fan of musicals and all things Disney, so I'd have to say 'Tangled,' 'High School Musical,' or 'Grease.'