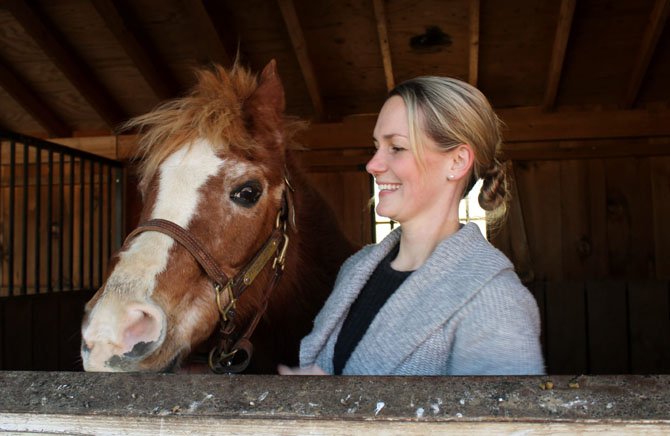 Although it's been bone-chillingly cold this winter, volunteers still show up for their weekly shifts at the Northern Virginia Therapeutic Riding Program in Clifton.
"The horses still need to be fed, even when it snows," said NVTRP interim executive director Kelsey Gallagher.
The horses may have an appetite like most animals, but they are anything but typical.
At NVTRP, individuals with disabilities come to experience therapeutic riding. The program serves riders with physical, intellectual and emotional disabilities.
"Anything from autism, to down syndrome, to post traumatic stress disorder," Gallagher said.
The program began in1980 with only one horse, and a few dedicated people.
At one point, the program was part of Fairfax County 4-H. NVTRP eventually became its own 501-c3 non-profit.
Now, the program has about 150 volunteers that come to the farm each week.
"Those are usually the same people coming out every week who commit to a session. When they come out, they are helping take care of the horses, and also helping with the lessons," Gallagher said.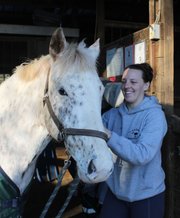 EACH RIDER may need up to three volunteers to be able to ride, depending on their disability.
"Some of them need somebody to lead the horse and two people walking beside them. Some of them only need one leader and one side walker, some ride independently. Our goal for each rider is for them to be able to ride as independently as possible," Gallagher said.
NVTRP offers both therapeutic riding and hippotherapy for its students.
"Therapeutic riding is a group lesson that teaches students with disabilities how to ride. It has all kind of therapeutic benefits with it," Gallagher said.
Larger benefits include building muscle strength, balance, and coordination.
"Plus, it's just fun," Gallagher said.
Learning to ride also gives students a sense of confidence and accomplishment.
"Some of our riders are in wheelchairs and are unable to do things like play tee-ball, but they can ride a horse," Gallagher said. "It's something for their families to be proud of and for the riders to talk to their friends about."
Hippotherapy is an individual therapy session where riders reach therapeutic goals with a licensed therapist.
"A licensed therapist uses the horse's movement as a treatment tool to achieve therapy goals," Gallagher said.
Therapeutic riding allows children with disabilities to use a fun activity to be active.
"For a lot of children with disabilities, being active can sometimes be a challenge. The students that come out to us are very motivated by riding," Gallagher said.
Riding also allows for students with disabilities to work on social skills.
"Because there are volunteers out there helping them, they can work on things like eye-contact, verbal skills, and things like that," Gallagher said.
NVTRP has adult riders as well, Gallagher said.
The program is continuing to expand. NVTRP hopes to break ground on its new riding center by the end of 2014.
"It will be called the 'Center of Excellence.' It will be a one-stop shop for families of someone with a disability," Gallagher said. "We found that a lot of the families said they spend all day driving around to different services. Our vision was to create this one-stop happy place where they could come to get cohesive services."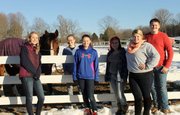 THE NEW CENTER will include an indoor riding rink, which will allow more riders to continue their lessons during the winter.
"We find that our riders lose a lot of the progress they made when we have to take that break. So it's been a dream of ours for a long time to have an indoor riding rink," Gallagher said.
The center will also include a waiting room, office space and space for therapy.
According to Gallagher, NVTRP relies heavily on its volunteers.
Gretchen Anderson, a Clifton resident, who Gallagher calls one of the star volunteers, has been volunteering with NVTRP since 2009.
"I really like it all. Everything is different. I think the most rewarding thing is working with the riders and seeing visible improvements from the beginning of a lesson to the end of the lesson. That's pretty amazing. But there's nothing I don't love doing here," Anderson said.
Gallagher began volunteering at NVTRP 12 years ago, and said she fell in love with the program.
Maryrose Bornhorst, NVTRP program director, has been involved with NVTRP for eight years.
"I think one of the great things about all of the staff is that we have to work so closely together, just because all of our jobs overlap a little bit," Bornhorst said.
Riders pay fees for their lessons, but they only pay less than half of the amount it costs NVTRP to provide those lessons.
"The rest of that we make through fundraising-individual donations, corporate sponsorships, our Ride to Thrive Polo Classic in September, and grants," Gallagher said.
NVTRP will host their Ride to Thrive Horse Show on June 28, where riders will compete and show their skills.