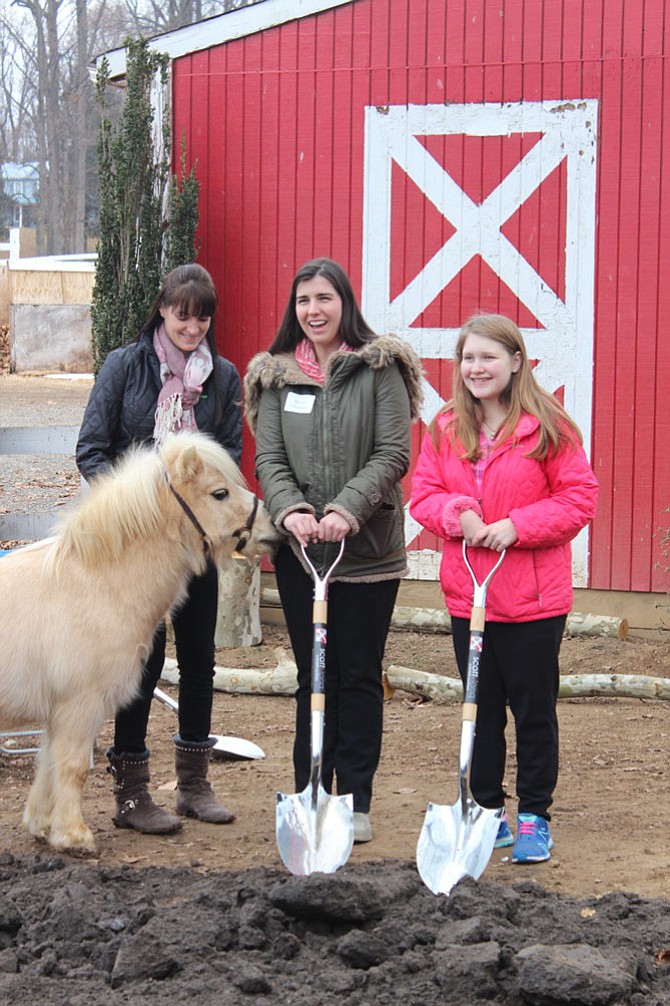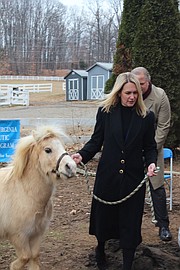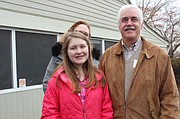 Good news for children and adults with disability, Youth at Risk and military families: The Northern Virginia Therapeutic Riding Program (NVTRP) broke ground on the first phase of their whole scale capital improvement project and set the footprint for the indoor arena and barn on Wednesday, Jan. 10, 2018.
The first phase will include extensive infrastructure and foundation work; a new, larger, lighted outdoor riding ring; expanded parking and improved access; and an accessible playground.
Blythe Champion, 30, has been riding at The Northern Virginia Therapeutic Riding Program (NVTRP) in Clifton for 19 or 20 years now. She has brain damage from infections.
"For me it is more of an emotional thing...I know the horses and I have a great relationship with Booker. I get on him and he is kind of ...sometimes I have trouble getting into canter but he is the kind of horse I will get on him and he can tell 'Okay, Blythe's legs go back, oh, I know what she wants, here we go...'
"It does not help me improve anything, because the brain damage is not going to change but I know for fact how it helped other riders. It helped them with their strength, their balance, their coordination. We had riders with autism. It helped with their speech and also it helps PTSD wounded warriors. It is very stressful and emotional all the time for them, so riding brings back basically a positive feeling in their lives," said Champion.
When asked about partnering with Fairfax County Public Schools to bring children with special needs to the farm as part of the school day once a week, Kelsey Gallagher, the executive director of NVTRP, said: "We just begun exploring [partnering with public schools as a possibility] when kids are in the farm they are motivated, they work harder, try harder, they are more engaged. Recently, we started a partnership with a private school in Prince William County. They bring kids for part of the school day… there are a lot of children who are on the autism spectrum. Once a week, they come out for two hours… they have different academic or social goals working with the horses…[their goals] can be anything from leadership skills or interpersonal skills. We have different types of services, so for the schools, they pay a fee to participate. We fundraise for over half of our budget. Our therapeutic riders, children and adults with disabilities, that come to us on their own, they pay about the third of that cost to put on the lesson. We have partnerships with different groups and they pay a fee for lessons. Youth at Risk riders and our military, we fundraise for them to ride at no cost... Loudoun County's budget supports the Special-Ed program to go out and ride."
For more information on the Build to Thrive campaign and ways you can support the project, visit www.nvtrp.org or contact Development Director Wendy Baird at 703-764-0269.