Comstock Seeks Republican Nomination
By Ethan McLeod
The Connection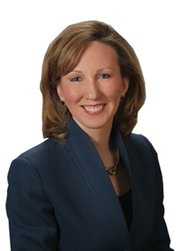 "I am running for Congress because I believe my strong record as a common sense conservative leader is what is needed in Congress."
— Delegate Barbara Comstock (R-34)
Virginia State Del. Barbara Comstock (R-34) will be running for the Republican nomination for Virginia's 10th Congressional District election in 2014. Comstock issued an official statement Jan. 7 about her decision to run, citing her past three terms as a delegate successfully working within the limits of Virginia's state budget as a primary reason behind her decision to run.
"I am running for Congress because I believe my strong record as a common sense conservative leader is what is needed in Congress," said Comstock in her statement. "Common sense isn't very common in Congress today, but in the state legislature, we have to operate within budget limits and produce results."

Delegate Comstock represents Virginia's 34th district, which includes Great Falls, Vienna, and parts of McLean and Loudon County extending toward Algonkian Park, and announced her campaign run one day before the start of this year's General Assembly session on Jan. 8.
In an email exchange, Comstock highlighted job creation, repealing Obamacare, and continuing U.S. Rep. Frank R. Wolf's (R-10) tradition of protecting national security as several of her key priorities in this election.
COMSTOCK worked with Wolf both as a senior aide in his office from 1991-1995 and as a state delegate since 2009.
"Having worked for over 25 years with Congressman Wolf as a volunteer, as a senior staffer and as a state legislator, I would hit the ground running with a great breadth and depth of experience already having worked on all of the key issues facing Northern Virginia," said Comstock. Wolf announced Dec. 17, 2013, that he would not seek re-election to his House of Representatives seat, and three weeks later Comstock was the first to officially announce she would run for the Republican nomination.
As of Jan. 13, Comstock's biggest competition appears to be from State Senator Richard Black (R-13), a social conservative who represents areas of Loudon and Prince William counties. Black previously served from 1998 to 2006 in the House of Delegates and won the election for his current senate position in 2012.
Black confirmed Monday, Jan. 13, that he would be running for the Republican nomination. "I have represented all of Loudoun County at one time or another," said Black in an interview. "I am very concerned about the disarray in our foreign policy and can bring some strength to the foreign policy and military arenas." He is also concerned with helping the United States achieve energy independence.
Richard Shickle, chairman of the Frederick County Board of Supervisors, also intends to run for the Republican nomination. Shickle was first elected in 1996 to the board, whose territory includes Winchester and parts of Virginia extending toward the West Virginia border, and has served as chairman since 2004.

Artur Davis, a former Democratic U.S. representative from Alabama who moved to Northern Virginia, and state Del. Tim Hugo (R-40), whose district includes Centreville, Clifton and parts of Fairfax, were seen as potential candidates to seek the Republican nomination. However, both said in Dec. 2013 they would not be running.
AS FOR POTENTIAL DEMOCRATIC CANDIDATES for the seat, Supervisor John Foust (D-Dranesville) announced Dec. 10, 2013, that he would seek the Democratic Party's nomination for the 10th congressional district election. Foust pointed to his own disappointment at the House's Republican-led shutdown of the federal government in Oct. 2013 as a primary reason he would run for congress.
In addition to Foust, Leesburg architect Sam Kubba and Fairfax attorney Richard Bolger are also campaigning for the Democratic nomination, which will be decided by a primary.
The question of how the Republican Party will determine its nominee for the election is still on the table, with the options of choosing a candidate through either an open primary, in which both candidates will run publicly for the nomination, or a closed party convention.
The 10th Congressional District Republican committee will decide on how to proceed with choosing its nomination on Wednesday, Jan. 23.