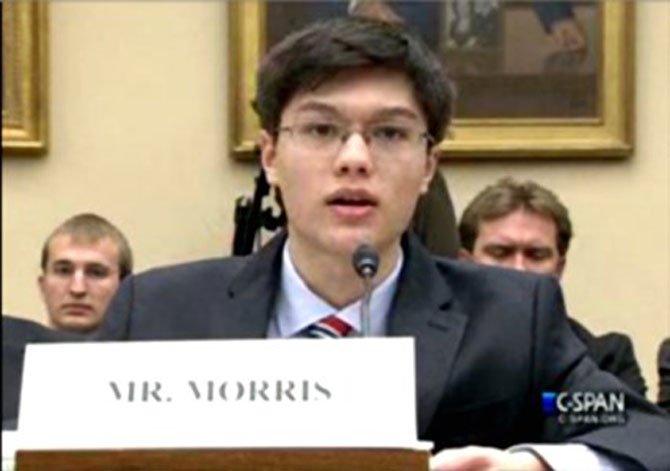 Chantilly High senior Brian Morris, CEO of Chantilly Robotics Team 612, testified in Washington, D.C., last Thursday, Jan. 9. He spoke before the Committee on Science, Space and Technology, Subcommittee on Research and Technology, of the U.S. House of Representatives.
Robotics Team 612 is a Chantilly Academy competitive team that inspires and prepares students to become the technological leaders of tomorrow. Morris was invited to testify at the hearing titled "Private Sector Programs that Engage Students in STEM."
It was held to review STEM (science, technology, engineering and math) education initiatives developed and conducted by private organizations to learn what these organizations, plus industry, is doing to support STEM education and to ensure the federal government can leverage, not duplicate, these initiatives.
Morris spoke to the committee about his experience participating in FIRST (For Inspiration and Recognition of Science and Technology) programs. "It has challenged and trained me in ways normal classroom schooling never has," he said. "And because of FIRST, I feel more prepared to face the challenges and obstacles of the 'real world' than I ever imagined I would.
"FIRST isn't just about the competition," continued Morris. "It's also about the learning and life experiences of being on a team, working with technology, solving problems and inspiring others to do the same. I've learned invaluable technical skills, as well as how to manage and lead large groups."
Fellow senior Elanna Crew, who's legally blind, told the committee, "I could never play sports and I never seemed to fit in with any other groups, clubs or teams. Because of the confidence that robotics gave me, I'm now looking to go to college to become a teacher at a school for blind students. It's the best thing I've ever done for myself, and it's a decision I will never regret."

Chantilly's Robotics Team 612 is student-run and has more than 150 members. As a FIRST Robotics team, it vies with high-school students nationwide to design, build, program and test a robot in only six weeks and then compete in a three-day tournament. Besides being team CEO, Morris also participates in technical theater and is a math and science tutor.