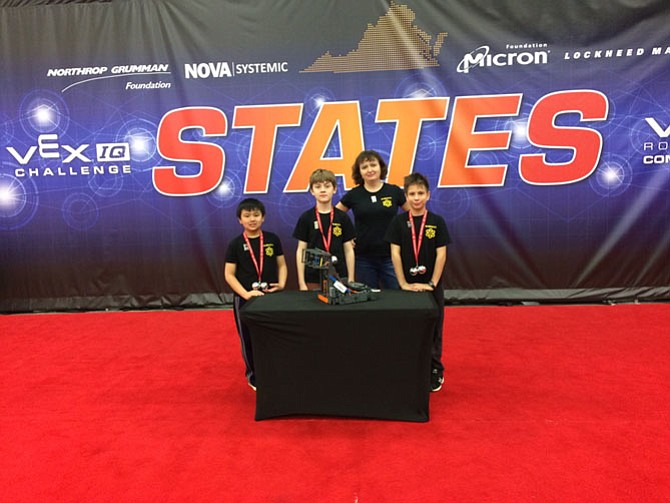 Team BuzzBotsA from Aldrin Elementary School in Reston took home the STEM Research Project Award (VIQC) at the Vex IQ Virginia State Championship, a one-day robotics challenge in Doswell, Va. beating out 17 highly skilled teams from across the Commonwealth.
With the award came a coveted invitation for the team, David Nelson, Connor Uehara and Anthony Starkov, to compete in the 2018 Vex World competition held later this month in Louisville, Ky.
"I am so proud of the accomplishments of our entire Robotics Team at Aldrin," said Shane Wolfe, principal Aldrin Elementary. "They have worked tirelessly to support each other during their weekly practice and planning meetings and at the local, state and soon to be world competitions. … I'm thrilled that Robotics has taken on such an impressive step forward in becoming the first team to make it to the VEX Worlds Competition. This is quite the feat given the ages of our team members. This team has set the bar high. I'm certainly one proud principal!"
For the state competition, Team BuzzBotsA designed and built a robot in accord with strict Vex IQ requirements to compete against other teams in a game-based engineering challenge of multiple robotic matches played on a 4-foot by 8-foot rectangular field. Classroom STEM concepts. science, technology, engineering and math, were put to the test as team members learned and practiced lifelong skills in cooperation, leadership and communication while building and competing with their robots.
TEAM COACH Zina Raye is an IT project manager at a local company. She was happy to help the next generation of technology gurus reach their full potential.
"Technology can get you only so far," Raye said. "The ability to ask right questions and to work together finding solutions is what makes all the difference." Raye said that the boys not only learned gear ratios and how to program their robot for autonomous mode, but they also learned how to deal with frustrations, such as when their robot was unresponsive right before a match started. They also learned how to research and plan ahead, how to work in alliance and what to do when they encountered something they never saw before.

Elaine Nelson, David Nelson's mother, spoke about her son's personal development and pride. "It is so exciting to watch David's development and growth this past year. I am grateful that he has the opportunity to represent Aldrin Elementary and the entire Fairfax County Public School system as he progresses to the World Competition. The Vex Robotics venue has provided David with unparalleled opportunities."
LeeAnn Uehara, Connor Uehara' mother, said: "First and foremost, I am so proud of my son who is a first generation American-born citizen to pursue this amazing endeavor. Connor first became interested in technology and cyber science when he was two years old. I am thrilled that he has the privilege to participate in this prestigious World competition."
Igor Starkov, Anthony Starkov's father, volunteered at local and state competitions. He shared a sentiment that many parents could understand. "I wish something like this was available when I was growing up," Starkov said.
THE ACCOMPLISHMENTS of Team BuzzBots earned them a coveted invitation to compete in the April 29 - May 1, 2018, Vex IQ Worlds in Louisville, Ky. It is "Robotics Olympic Games" for school-age children. Only the best of the best robotic teams from the 50 states and each participating country qualify to compete at the event. This will be Team BuzzBotA's first time heading to the Vex Worlds.
As the registration fees and expenses are high, Team BuzzBotsA created a GO Fund ME page at gofundme.com/help-aldrines-robotics-teambuzzbots. The team asks individuals to make a donation and support them as they blaze new trails and embark on the adventure with the hope to bring home the title of World Champions.