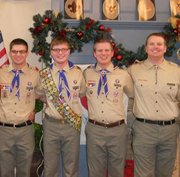 Gregory D. Ziegler, 16, of Virginia Run in Centreville was awarded the rank of Eagle Scout at a Court of Honor ceremony on Dec. 29, 2013 at the Virginia Run Community Center.
Greg led his fellow Scouts in an Eagle Scout Project which created a technology center at the Katherine K. Hanley Family Shelter in Fairfax. By providing the residents with computers and the latest software, he gave the adults the resources they need to look for housing and employment, and enabled the children to complete their homework and receive tutoring assistance. This Eagle Scout project combined Greg's desire to complete a lasting project to benefit the community with his love of technology.
Greg started in Scouting as a Tiger Cub with Cub Scout Pack 1682 at Virginia Run Elementary School. He crossed over to Boy Scout Troop 1137 where he earned the ranks leading up to the Eagle award and earned 132 merit badges, the World Conservation and U.S. Heritage Awards. He was elected to the Order of the Arrow, the Boy Scouts National Honor Society. Greg has held a number of leadership positions in the troop including Senior Patrol Leader, Assistant Senior Patrol Leader, Troop Guide, Instructor, and Bugler. This past September, Greg satisfied an Eagle Board of Review that he has lived up to the Scout Oath and Law and was awarded the Eagle Rank.
Greg's three older brothers, all Eagle Scouts of Troop 1137, were home for the holidays to join in the Court of Honor. Mark J. Ziegler, U.S. Military Academy (USMA) Class of 2010, is a 1st Lieutenant in the U.S. Army, and is stationed in Ft. Bliss, Texas. Michael T. Ziegler, USMA Class of 2013, is a 2nd Lieutenant in the U.S. Army, and is currently attending Infantry Officer Training in Ft. Benning, Ga. Matthew S. Ziegler, USMA Class of 2016, is a cadet at West Point, N.Y.
Greg is the seventh of the eight children of Barbara and Mark Ziegler. He is a junior at Westfield High School where he is pursuing an advanced studies curriculum with a focus on technology. In addition to his scholastic endeavors, Greg is a member of the Westfield High School Cross Country team and actively participates in numerous community service clubs and events. He is president of Westfield's Habitat for Humanity Club and a member of the Bulldog Buddies Club. Recently Greg was recognized by the Fairfax County Park Authority as the "2013 Outstanding Volunteer of the Year" for his participation in the Adaptive Aquatics Program for the past three years.