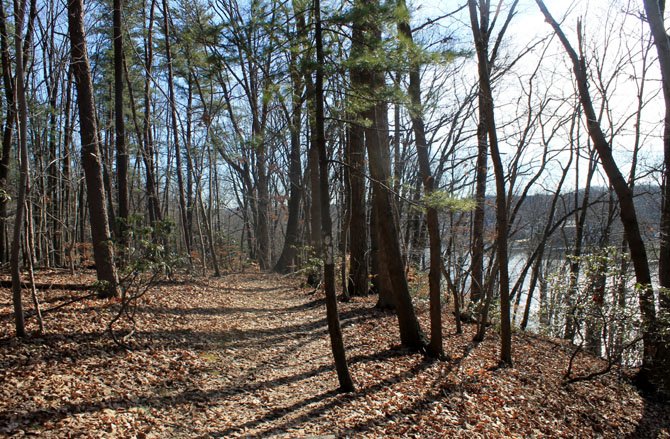 Fairfax Station and Lorton residents have the Workhouse Arts Center, Gunston Hall, and several other arts and historic sites at their disposal for winter fun this season.
But what about a winter activity that is somewhat off the beaten path?
Being outdoors and hiking can be just as fun during the winter months, and the Fairfax Station, Lorton and Clifton area has a variety of great trails to keep people active.
It may seem cold, but winter is a great time to go hiking. There are fewer crowds, and if bundled up, short hikes can be rewarding during the winter season.
The Bull Run-Occoquan Trail is a great option for some hiking. The 18-mile trail goes along the Bull Run and Occoquan Rivers.
"If you did the whole thing, you would spend anywhere from seven to 10 hours hiking, and you'll maybe see a house, or maybe see a car. The only other people you will run into are other people hiking on the trail. That's how isolated it is," said Brian Bauer, the marketing and communications director at Northern Virginia Regional Park Authority.
Paul Gilbert, executive director of the Northern Virginia Regional Park Authority, said the trail is a hidden treasure in Fairfax County.
"It's like hiking the Appalachian Trail. You're just 10 minutes from Fairfax, in Fairfax County, and you feel like you are in the middle of absolute wilderness. It's really cool," Gilbert said.
Occoquan Regional Park in Lorton has a variety of short trails that offer beautiful views of the Occoquan River.
The park is also home to historic brick kilns, which were used to build bricks for the Lorton Workhouse Prison.
"I love Occoquan in general," said Lorton resident Hau Chu, 20. "It's just really nice."
Remember to wear layers, hats and gloves, wool socks, drink plenty of water, and bring high-calorie snacks.
For residents who don't want to brave the cold, there are several indoor events to keep busy, including the Workhouse Arts Center. The Workhouse Arts Center offers several events in the coming months, including comedy shows, art walks and more.
Residents looking for educational fun this winter can try the Prison Museum at the Workhouse Arts Center, which details the history of the workhouse as a prison throughout the 20th century.
There's also the 2nd Saturday Art Walk on Feb. 11, a free event that showcases the work of more than 100 artists.
This event also includes a nonperishable food drive for the Lorton Community Action Center.
Occoquan Regional Park is located at 9751 Ox Road, Lorton. It is open daily from 8 a.m. until dusk, Jan. 1 – March 17. For more information, call 703-690-2121.