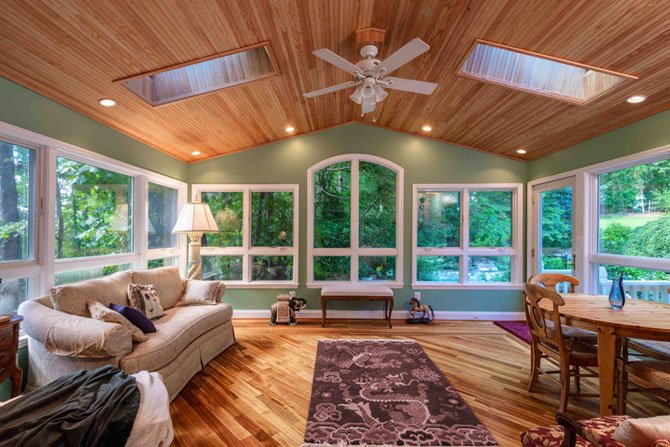 On the face of it, adding a two-level structure to a 30-year-old brick house is not especially difficult. Essentially, Vienna homeowners Al Dobson and his wife Joan Davanzo each have a pet project — a spacious first level garage to house sport cars, motorcycles and '60s rock for him; a lovely sunroom comprised of floor-to-ceiling window walls for her.
Knock out the existing screen porch; slightly expand the footprint for the garage; sun room goes on top embracing the rear deck and pool; and, Bingo, it's done.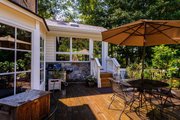 Yet as anyone who has lived in the Fairfax County for a while knows, no project is without complications, and add to this the problems of an unlevel grade, set-back restrictions, strict rules on structures with lots of glass and the owner's desire to preserve all the surrounding trees, and suddenly there are the makings of an intricate engineering challenge — the sort of brain-buster most contractors wouldn't attempt to unravel.
That's how it all started with this deceptively understated Vienna addition: several contractors told Dobson and Davanzo they couldn't have the amount of glass in the sunroom they were looking for; county rules regarding glass and where it can be positioned are rigorously enforced; and then, too, the glass must to be "braced" to resist winds that otherwise might cause it to implode — a requirement which inevitably reduces sightlines.
"County rules on glass in new construction have been in place for over a decade," said David Foster, president of Foster Remodeling Solutions, the contractor the couple hired to execute the project. "Because of some tricky complications, a lot of contractors stay out of the sunroom arena — so it's become somewhat specialized."
What several contractors plainly told Joan Davanzo, nevertheless, was that her dream project — as she envisionsed it — simply couldn't be built.
"We were told the windows couldn't be as low to the floor, nor as close to the corner as we wanted," Davanzo said. "Since I had particularly liked the openness of the old screen porch the sunroom was to replace, this was discouraging."
By contrast, Davanzo said, Foster began addressing the project's technical hurdles from the first meeting.
"His experience was palpable," said Al Dobson, 70, who has had several previous encounters with remodelers. "The first consideration — which he pointed out immediately — was how to develop a site plan that would satisfy the county, but also give us a sustainable result that allows the aesthetic effects we were seeking."
Part of the assignment would also entail a plan for preserving mature trees on the property's eastern side.
THE GARAGE, which would house Dobson's collectible motorized vehicles, needed a footprint of some 400 square feet, the contractor determined; the sunroom, one level up, would be plenty spacious at slightly over 200 square feet. Hence, Foster's "stacked" pyramidal design not only satisfies family "use" requirements, but also allows the "growing room" needed for an entire grove of mature trees bordering the property's perimeter.
The plan was, of course, partly predicated on lowering the lot's existing grade some five feet, enough to carve out a foundation for the garage and create driveway access.
The foundation also figures prominently in an innovative engineering solution that gives the couple the amount of glass they had been seeking in the sunroom.
To meet the county's wind-bracing requirements, Foster and team designed a narrow-gauge, all-steel framework for the sunroom's many large glass panels which is anchored all the way down to the concrete foundation itself.
Though not visible to the naked eye, the infrastructrure allowed designers to extend windows to within a few feet of the floor and mere inches from the corner of the room.
"Our dogs can even look out the windows," Joan Davanzo said. "The design gives us a really a stunning view in all directions."
But, surely, a nearly all-glass room must be quite cold in the winter?
"All the windows are Low-E Argon-filled double pane — state of the art thermal resistance," Foster said.
To reinforce the comforting insularity, however, the contractor applied thermally-resistant spray foam behind the wall surfaces — and drilled holes in the steel columns to accommodate an added infusion.
"It's all about creating a tight structure," Foster said. "That's what keeps outside temperatures out."
On the other hand, the sunroom feature Davanzo most appreciates this time of year is how fluidly it opens to spring's balmy breezes. All the windows are casement-style which can be independently adjusted to let in cross breezes. Overhead, two skylights open electronically — and individually. The skylights are also equipped with electric blinds and rain sensors.
The room's interior design scheme, which Davanzo developed in conjunction with Foster, reflects a number of favored owner lifestyle preferences. The golden duotone teakwood floor — comprised of a framed rectangular perimeter traversed with diagonal slats — is a pattern the couple came upon in their travels in Italy. The tongue-and-groove ceiling and warm sea-foam green wall color, likewise, were chosen to highlight a verdant visual continuum that recalls childhood adventures in the country.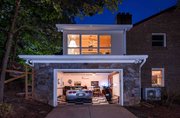 The new sunroom is accessible through an adjacent family room separated by three French doors which Davanzo mostly leaves open.
"This is where I spend most of my time when I'm at home," she said.
Details
Foster Remodeling Solutions periodically offers workshops on home remodeling topics. Call 703-550-1371 or visit www.fosterremodeling.com.
For Al Dobson, the favored hang-out now is his "man cave" garage which houses a Corvette, his Italian motorcycle and a sound system that plays choice sounds of the '50s and '60s.
A racing enthusiast who participates in time trials at Summit Point, Dobson wanted a room that speaks to his passion for motor sports. Underfoot, PVC tiles in an iconic checkerboard pattern set the tone for a private retreat decorated with '60s movie posters and other period memorabilia.
"It's a really peaceful spot to just relax," Dobson said. "That's what this process was always for, so I'm glad we pursued it."