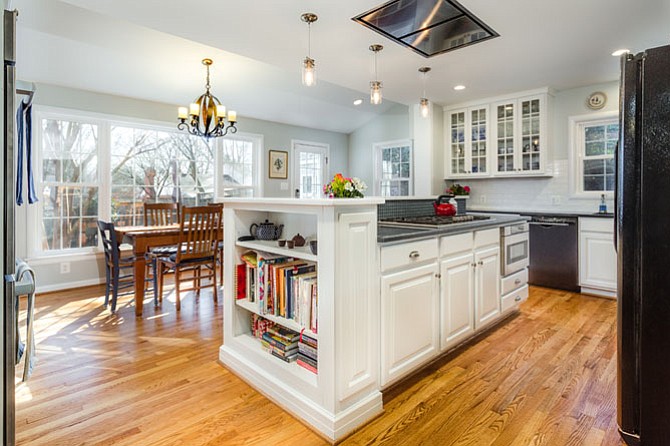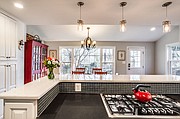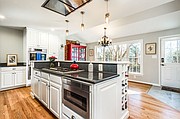 When does a house become dated? The answer may be subjective, but 60 years is a long time in the life of a kitchen. When an older home becomes antiquated, you want to revitalize — not just the house — but your enjoyment of it. It's a situation that calls for inspired thinking.
Such are the personal revelations driving many a sweeping makeover, says David Foster, president of Foster Remodeling Solutions, and the professional whose design team rehabilitated the 1,200 square foot north Arlington rambler being featured in an open house Saturday, March 24 from 11 a.m. to 2 p.m.
Located in Arlington's Boulevard Manor neighborhood, the three-bedroom circa 1950s brick rambler has been owned by Chris and Megan Tighe since 2009. To make the house more suitable for a family that includes a school-age daughter, the remodeling entailed joining two small rooms (kitchen and dining room) and incorporating the footprint of a rear-facing sunroom.
The new 350-square-foot suite is configured as an open floor plan that includes a gourmet kitchen, family dining zone and mudroom.
Meanwhile, the suite's eye-catching transitional-style interior is enhanced by a custom-designed food prep island, built-ins and a stunning view of a leafy backyard brimming with mature trees.
To make the plan feasible, Foster Remodeling Solutions removed 16 feet of rear elevation bearing wall, raised the former sunroom floor to level with the kitchen and installed matching hardwood throughout.
To augment available light, a 10-foot-by-6-foot window wall, insulated with Argon-filled double ply glass, provides a spot-on view of the Tighe family garden.
"We learned early on that an open house can help neighbors find ideas for improving their own homes," says Foster. "People can see for themselves what design styles are being introduced, and what technologies are proving practical, even life-enhancing."
Visitors searching for direct professional input, on the other hand, are free to explore ideas with Dory Clemens, the Foster designer who executed the Tighe makeover.
"This is an exceptional transformation," said Clemens pointing to the many original built-ins and distinctive interior elevations. "The ideas implemented here respond to a broad range of owner requirements, yet colors and textures work together to create a warmly habitable living space."
Looking back, Chris Tighe says he and wife, Megan, started thinking about remodeling not long after moving into the house nine years ago.
"A childhood friend with an architectural background initially helped us sketch out some perspectives on a CADD system," Tighe said. "We routinely discussed ways we might make the new house feel larger, more functional and more personal."
Obvious shortcomings to the existing house included:
A small kitchen (9-foot by 11-foot) and adjacent dining room (10-foot by 11-foot) abutting a sunroom (20-foot by 7.5-foot) six inches below the kitchen floor;

Rear rooms that were too dark;

Outdated kitchen counter surfaces, flooring, wall coverings; fixtures;

Limited kitchen storage;

Overall: a floor plan so dysfunctional that the dishwasher door blocked access to the sink.
The Tighes learned about Foster Remodeling from neighbors, and decided to set up a meeting.
"I showed our drawings to Dory and she immediately began pointing out options that improved the plans in ways I hadn't even considered," Chris Tighe said. "This quickly became a very productive process for the whole family."
Chief among the technical challenges: how to heat and cool the new space. The foundation needed for the new space restricted access to the existing HVAC system. Clemens had a ready solution in the form of a mini-split HVAC unit.
"In the past decade or so, a mini-split has become a very effective way of heating and cooling a large open addition," Clemens said. "You don't need to retrofit existing systems. This application has opened up a lot of possibilities for adding-on to older homes, and is very cost-efficient."
Clemens proposed conjoining the kitchen and dining room and removing a section of rear-elevation separating the house from the sun porch.
The plan entailed removing some 16-linear-feet of bearing wall on the rear elevation, then installing a horizontal steel I-beam balanced on conceal vertical shafts to hold up the roof.
The resulting space is expansive, yet intimate. A two-level food prep island and dining counter sets up thoughtful work triangles. There are custom cubbies for favorite wines, a shelf for cookbooks and a built-in microwave. The island's topmost surface serves the dining table — and doubles as a lunch counter.
"It's the details that really work," Tighe said. "The room never feels cavernous,"
A built-in bench on a mosaic tile mat by the rear door provides a place to change and store shoes. "It works as our mudroom, but doesn't take up much space," Tighe said.
On that note, Tighe is pleased that the Foster team found ways to spare the crepe myrtle and other backyard trees while executing necessary excavation and building tasks.
"The garden view from any place in the kitchen has made this house a very special for us," Tighe said. "We want people who visit see what's now possible in our neighborhood."
Owing to limited space, persons interested in attending the open house should call 703-550-1371 and ask for the address; or RSVP online at https://www.fosterremodeling.com/resources/free-educational-seminars/
John Byrd has been writing about home improvement for 30 years. He can be reached @ 703/715-8006, www.HomeFrontsNews.com or byrdmatx@gmail.com