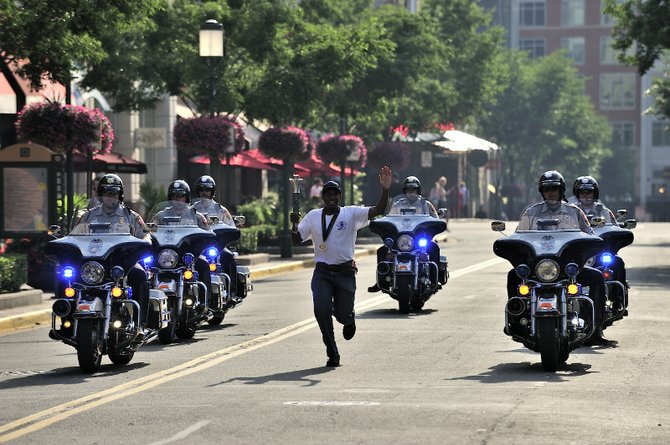 Sections of Market Street were closed the afternoon of Sunday, July 13 at Reston Town Center for an introduction of the Fairfax 2015 World Police & Fire Games. The World Police & Fire Games (WPFG) Sports Extravaganza offered live demonstrations including Honor Guard, Muster Carts, Police Motors, and Martial Arts. The demonstrations are part of the 2015 WPFG competitions, which will be hosted by Fairfax County and throughout the National Capital Region.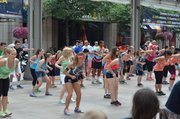 The World Police & Fire Games is one of the largest multi-sport, multi-venue events in the world. It draws more than 12,000 athletes from police, fire and other public safety agencies representing 70 countries competing in 1,600 medal events across 61 sports. Hosted by Fairfax County and held throughout the National Capital Region from June 26 to July 5, 2015, the games strive to inspire, celebrate and honor public safety officials.
On Sunday, master of ceremonies Kevin Shafter introduced activities including a kid's zone with junior ultimate fire fighter course. Fire engines, police and sheriff cruisers were available for children to explore. The Fairfax County Sheriff's Office was onsite, making child ID cards. Health and fitness groups came to display fitness routines at the Reston Town Center Pavilion. One fitness group was from the Reston YMCA. "The YMCA is excited to support the 2015 world games," said Joseph Crawford, an Executive Director of the YMCA and resident of Reston. Performing live music during the afternoon was the Northern Virginia Firefighters Emerald Society Pipe Band (NVFESPB).
Held biennially, the games will be held in Fairfax County in 2015, Montreal in 2017 and Chengdu, China in 2019. The August 2013 WPFG games in Belfast, Northern Ireland welcomed 7,000 competitors from 67 countries. "It is a great opportunity to showcase all of the professions and Fairfax County itself," said Fairfax County Fire Chief Richard Bowers, Jr. Fire Chief Bowers, Fairfax County Board of Supervisors Chairman Sharon Bulova, Supervisor Cathy Hudgins, and U.S. Congressman Gerry Connolly (D-11) had the opportunity to welcome everyone and gave remarks on the Fairfax 2015 games. At the end of the presentation the name of the Fairfax 2015 games mascot was announced as Captain Courage.
"This is huge," said Barry Biggar, President of Visit Fairfax. "The games will be a great time to see the caliber of competitors, and to not have to pay for tickets for it is extraordinary." Opening ceremonies for the Fairfax 2015 games will be at the Robert F. Kennedy Memorial Stadium in Washington, D.C. on June 26, 2015. Closing ceremonies will be at Wolf Trap Park in Vienna. The Athlete's Village will be at the Reston Town Center, with many of the events taking place at George Mason University.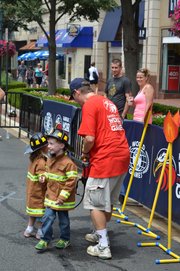 "It was no surprise the games were able to come to Fairfax," said Bill Knight, President and CEO of the Fairfax 2015 World Police & Fire Games. Knight was appointed to this position in November of 2012. Previous to this appointment, Knight operated a consulting practice in Atlanta, Ga. Knight served as Vice President of Venue Operations for World Cup USA in 1994, and as the General Manager for all venues and events in Athens, Ga. for the 1996 Summer Olympic Games.
In planning for the event, Knight has taken into account the use of the Metro's Silver Line. "The Silver Line will be a tremendous boost for the community," said Knight. Some of the athletics competitions will take place in Arlington, Loudoun and Prince William counties. "It is an enormous event," said Knight. "We need 4,000 volunteers and ultimately those volunteers will be the number one resource in holding these games."
The games are expected to bring between $60 and $80 million in economic impact to the area. Virginia Governor Terry McAuliffe was named the chairperson of the Honorary Board of the games, along with leaders across Fairfax County. The Fairfax 2015 Honorary Board includes former U.S. Secretary of State Colin Powell, Virginia Senators Tim Kaine and Mark Warner, Virginia Congressional Representatives Jim Moran, Gerry Connolly and Frank Wolf, George Mason University President Angel Cabrera, Fairfax County Chamber of Commerce President Jim Corcoran, and Cal Ripken, among others. Funding to support the effort was secured from seven official corporate partners and from Fairfax County, who approved $2 million in funding for Fairfax 2015 supplementing its prior funding and in-kind contributions.
"This is a source of pride for Fairfax County, it will bring athletes and their friends and families to Fairfax County," said Chairman Sharon Bulova. "It will bring economic opportunity for us at both Reston and the Dulles corridor. … It will put Fairfax County on the map in ways it has not been before." For more information about the Fairfax 2015 games, visit fairfax2015.com.