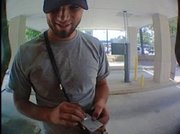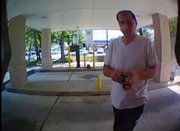 Detectives are asking for the public's help in recognizing suspects linked to a series of compromised automatic teller machines (ATMs). Skimming devices were detected on at least four different ATMs across Fairfax County in recent weeks.
Police were notified after bank security personnel noticed unidentified men placing skimming devices on the drive-thru ATM at the SunTrust Bank at 6052 Burke Commons Road on July 6. The three suspects were described as white men, in their 30's and one carried a pizza box. After further investigation, police determined ATM skimming devices were also placed on SunTrust banks at 6126 Rolling Road on June 28 and 29 and 9400 Richmond Highway on June 6.
Banking personnel have identified affected customers; however police remind the public that this crime is on the rise and that they should continue to check their bank statements closely for any discrepancies. Police also urge the public to closely look at ATMs when they are making financial transactions. The skimming devices may appear on machines and may be affixed loosely to machines with tape. Contact bank personnel and police immediately.
Anyone with information is asked to call Crime Solvers by phone at 1-866-411-TIPS/8477, e-mail at www.fairfaxcrimesolvers.org or text "TIP187" plus a message to CRIMES/274637 or call Fairfax County Police at 703-691-2131.