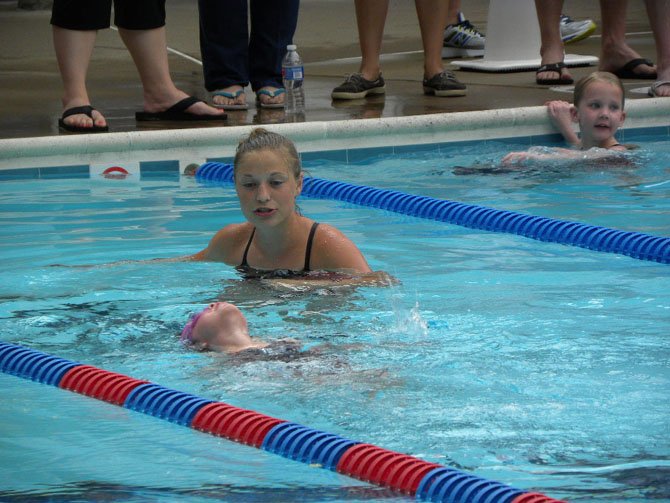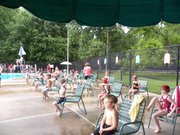 Storms almost canceled the Burke Centre Penguins' developmental meet that was scheduled for 6 p.m. on Wednesday, July 9. Jim Eckloff, president of the Burke Centre Swim Club, hoped that the Penguins would be able to swim tonight since there may not be another time to make up the scheduled event.
"They always make practice kind of fun, and it does make us better swimmers."

— Emma Garnjost, 11, of Burke
Developmental swim meets focus on practicing the basic strokes and turns. They give swimmers a chance to experience a racing environment. Different age groups - 8 and under all the way to 15-18 years old - have the opportunity to showcase what they have learned. The race is divided in heats, allowing all swimmers from each age group a chance to showcase their skills.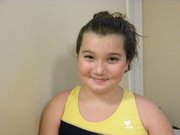 For Emma Garnjost, 11, of Burke, beating her times is her favorite part about swimming.

"It's always good to see what times I can get," she said. So much so that she does not mind getting up at 7 a.m. even though she is on her summer break. "They always make practice kind of fun, and it does make us better swimmers," she said.
Meanwhile, swimmers and their parents gathered in the Commons Club House, playing games, talking and eating foods they brought with them or purchased from the food stand set up by volunteers.
At 6:30 p.m., the skies cleared. The meet's organizers set up the pool and the speakers, which blared energetic music, rallying the competitors as they made their way to the pool. The meet started at 7 p.m. after a 30-minute warm-up.
Scott Cleal, of Burke, whose children are on the Penguins team, acted as referee for the meet. "We have had several outstanding swimmers here. A lot of them have gone on to swim in college," on swimming scholarships, he said.
Parents and spectators cheered and encouraged as they watched the swimmers compete. The loudest cheers were for the 8 and under group, who swam 25 meters accompanied by their coaches walking backwards to guide them to the finish.
This group's coach Wesley Kittelberger, 16, said it's her favorite group to coach. "They're all really little and they're just starting to swim. It's just really fun starting from scratch and getting to watch them grow in the water," she said.
Swimming is not just a water skill, it's also a life skill, said Laura McGuckin, of Burke, whose daughter Paige, 5, is on the team. "It's a good life skill to have and she has friends on the swim team. It's also a good way to pass the summer, it keeps us busy."