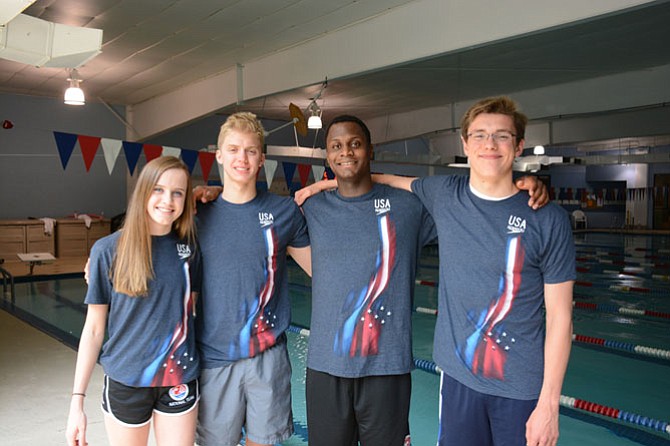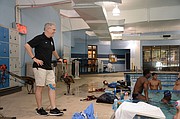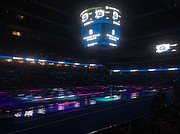 1:01.19. For the last year, Oakton resident Jasmine Hellmer has gone to bed looking up at "1:01.19" written on a Post-It note stuck to her ceiling. That time represented the rising Flint Hill School junior's greatest goal to date: the time standard to qualify for Olympic Trials in the 100 butterfly.
Now 16, Hellmer began swimming seven years ago. Though she said she "tries to have a balance" in her life, she's progressed in the sport to a high level of commitment in the service of her goals. Hellmer's group trains at the Burke Swim and Racquet Club eight to nine times per week in the water, plus a handful of on-land workouts for additional strength and flexibility work.
The facility is one of more than a dozen sites for the Nation's Capital Swim Club, of which Olympic champion Katie Ledecky is one of the more decorated athletes.
"Social life is obviously difficult," Hellmer said. "I always have to say 'I have swim practice.'"
But in March at a National Club Swimming Association championship meet, the young swimmer's dedication and specific focus on the 100 fly were rewarded. She got the cut.
Hellmer was one of four swimmers from the same group, coached by Fairfax Station resident Pete Morgan, to compete in USA Swimming's Olympic Trials meet. The weeklong event took place in Omaha the last week in June.
IT WAS THE FIRST trials experience for her teammates, as well, who included Burke resident and recent Robinson Secondary School graduate James Jones, Springfield resident and recent West Springfield High School graduate Lane Stone and Stonewall Jackson rising junior Sam Pomajevich, who lives in Manassas.
Overall, Nation's Capital fielded a team of 25 at the trials, the most qualifiers of any club in the country.
And if making the qualifying times wasn't difficult enough, in order to actually make the team, swimmers must emerge as one of the top two finishers in each event out of a field of between 150 and 180.
"From top to bottom it's the fastest meet in the world every four years," said Coach Pete Morgan. "The depth better than you see in the Olympics. I'm very proud -- as a country, what goes on in the process."
Pomajevich advanced the furthest of the foursome from Burke, placing 22nd in the 200 butterfly. In the process, he was chosen to be part of the National Junior team and compete in August at the Junior Pan Pacific Championships in Hawaii.
"I'm pretty happy with how I swam," he said. "And I have time to improve for the end of the season."
Morgan said for each of his swimmers, they talked prior to the meet about maximizing their experience, understanding it was highly unlikely they would make the National team in their rookie meet.
"It's no easy thing," Morgan said. "What's their reality? For most, it's a timed final experience."
Hellmer didn't go a personal best time in her race.
But her coach was quick to remind her, "OK, you got here," she remembers Morgan saying. "We talked about the whole, pinpointed what I did wrong. Then he said, 'This is where you learn, where you get to watch.'"
Aside from their own races, the athletes were able to spend time warming up and down around stars in their sport, such as Ledecky, as well as living legends including Michael Phelps.
Pomajevich said the bigger names mostly kept to themselves. He said he didn't have any starstruck moments either, keeping the mindset that they were his competition.
AT ONE POINT Hellmer found herself in the same recovery pool lane as Phelps himself.
"Oh my God don't get in this lane," she remembers thinking. "I just stopped at the wall and let him pass. It was really cool. I got to see how he trained, how he got ready for his races."
James Jones, a standout on the reigning Virginia state champion Robinson men's swim and dive team, competed in the 50 freestyle and raced a time trial 100 freestyle, effectively a competition warm-up.
One highlight he said was swimming in the same preliminary heat as eventual Olympics qualifier Anthony Ervin.
Though making the meet was a huge milestone towards each of the foursome's ultimate goal of making the Olympic team, they also felt tuned in to the energy of so many others fulfilling their dreams at the same time.
"It was awesome to watch," Jones said. "Achieving everything they've been working for."
The arena in Omaha seated around 14,000 spectators for the advanced rounds of the meet.
"Once the stands were filled, it was even more amazing," Heller said, "and even more nerve-wracking. The arena was full of emotions, tears of joy for those having reached their goals and achieved their dreams. And tears of sadness if you came in third -- they were really devastated."
In four years, each of the swimmers from Burke expects to return to trials, facing potentially devastating near-misses, or tears of joy.