During the June 24 swearing-in ceremony of the Fairfax City Council members and mayor, Councilman Jeff Greenfield decried the fact that so many children in the City are hungry. He then promised to create a task force to attack the problem.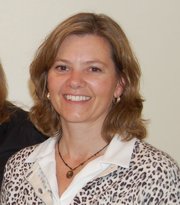 Lisa Whetzel, a 15-year Fairfax resident and executive director of Our Daily Bread (ODB), was listening carefully to his words. And at the July 8 Council meeting, she told Greenfield and his colleagues that his remarks inspired her.
"Thank you, Jeff, for highlighting the fact that over 47,000 children in Fairfax County are on free or reduced lunch – and over 1,600 in Fairfax City," she said. "That's a lot of children who don't know if they will have an evening meal when they go home."
Whetzel said she'd welcome the opportunity to be on the task force Greenfield is assembling to address this issue. Speaking from the perspective of a nonprofit whose mission it is to provide emergency food to struggling, working families in the City, she said, "We need to do more because we cannot keep up with the demand."
She said at least half a dozen food programs serving Fairfax already exist and noted that ODB delivers two weeks worth of groceries every weekend to 30 families here. Five percent of them, said Whetzel, are Fairfax City residents.
ODB ALSO MAINTAINS a small food pantry for families in immediate need and initiated a weekend food-pack program at Daniels Run Elementary. It's now in its third year and serves about 20 students in need, each school year. In addition, families in ODB's food program receive vouchers to purchase fresh fruits and vegetables at area farmers markets.
"We can only do this work with the help of the community," said Whetzel. "In the City, Fairfax United Methodist Church, Christ Lutheran Church and Fairfax Presbyterian Church all contribute to our food program. Local civic groups like the Boy Scouts, Girl Scouts, American Legion, Lions Club, Moose Lodge, Kiwanis, Rotary and neighborhood civic associations all help us attempt to meet the need. We couldn't do it without them."
But, she said, a recent analysis conducted by GMU professor Stephen Fuller concerns her. "His findings state that the job sector with the highest, overall projected increase in coming years will be in low-wage, service and retail industry," said Whetzel. "The implications of this projection demand our attention."
She said the local food programs can always be strengthened and improved, but she urged the City Council to take things a step further. "We need to address the root causes [of hunger here]," she said. "If we don't, we'll always be chasing our tails."
Therefore, said Whetzel, "I urge the City Council to continue to value and increase efforts to include affordable housing in its redevelopment projects. If people are spending 50 percent of their income on housing, how do we expect them to cover their utility and transportation bills, let alone their food bills?"
Knowing that even more local residents are anticipated to have low-paid, hourly wage jobs in the future, she said, "That fact, coupled with increasing rent prices, is a recipe for more demand for our human services. Can we find a way to provide housing for newly graduated college students, our senior citizens of modest fixed incomes, and our parents who are making $30,000 a year or less?"
Hungry Children in Fairfax
Numbers of school children in Fairfax City schools receiving free and reduced-price meals (1,616 total):
Daniel's Run Elementary – 197, free; 53, reduced = 250 total
Providence Elementary – 286, free; reduced, 92 = 378 total
Lanier Middle – 243, free; reduced, 67 = 310 total
Fairfax High – 472, free; reduced, 206 = 678 total
--Source: Virginia Department of Education, October 2013
WHETZEL noted that, in her neighborhood alone, are several homes containing multiple or extended families who must live together to make ends meet. And these people aren't unemployed slackers.
"The adults are all working, have kids going to City schools, play in FPYC sports, etc.," she said. "But they cannot afford to live in their own space. These adults have jobs that we all benefit from – they install your cabinets, are your school's receptionists, fix your car and check you out at the grocery store."
"That is the conundrum before us," continued Whetzel. "Food insecurity is a symptom of a larger problem that starts with the lack of affordable housing. I welcome the chance to be a part of the City's efforts to develop real solutions. It's a wonderful goal to end child hunger in Fairfax City; and if the community rallies, I think we can achieve it."
After she spoke, Mayor Scott Silverthorne said this matter would probably be placed onto a City Council work-session agenda by September.