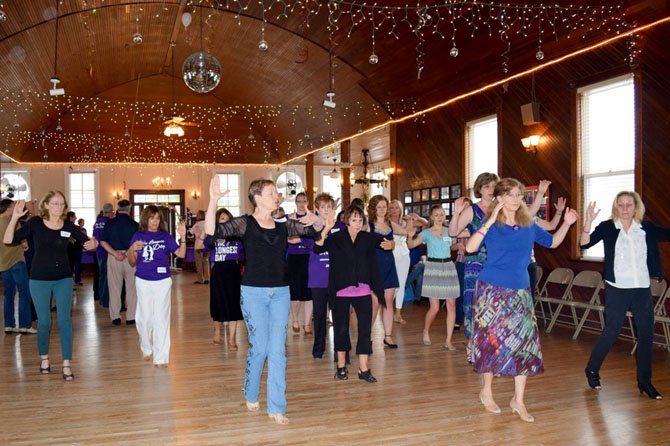 This June 21, Summer Solstice and thus the longest day of the year, was also the date of the Alzheimer Association's fundraising effort, The Longest Day. The date of this nationwide fundraising event is no coincidence, though, since every day can feel arduous and never-ending for those who battle Alzheimer's.
On The Longest Day, all participants did something active that they loved from sunrise to sunset in honor of those who cannot necessarily actively pursue their passions due to the disease.
"On The Longest Day, people across the globe join together to honor those facing Alzheimer's disease every day," Cindy Schelhorn, Alzheimer's Association National Capital Area Chapter Director of Communications and Marketing, said. "We selected the longest day for our event, the Summer Solstice, to honor the strength, passion and endurance of people living with the disease and their caregivers."
From coast to coast, 1,108 teams and 2,684 participants raised close to $1 million and counting.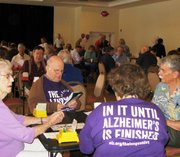 "All proceeds benefit the Alzheimer's Association, supporting efforts to increase awareness and funding for care, support and research," Schelhorn said. "Most services we provide are free of charge, including a 24/7 Helpline, available round the clock help for all needs — for people who just want information or for those in a serious situation."
As long as participants raised at least $1,600 and pledged to be active all day, they were a part of The Longest Day wherever they were.
THE NATIONAL CAPITAL AREA chapter has counted almost $40,000 among the 16 local teams that participated. The teams varied in size and in their activities.
Gil Krawitz, team captain and creator of Team Step and Swing for Elaine, said his involvement in the Longest Day is inspired by his late wife, Elaine, who was affected by dementia and Alzheimer's disease.
"We were high school sweethearts and married 42 years," Krawitz said. "In 2011 she started experiencing symptoms and she died July of 2013. It took me quite a bit of time to put my life back together. By February of this year, I could finally think about moving forward."
Krawitz, a social dancer, said his friends in the dance community wanted to organize some kind of a tribute for Elaine. This year's summer solstice event was his first organized event in Elaine's name.
"I wanted to have a dance that day and I asked about a dozen of my friends to help out and they jumped at the chance," Krawitz said. "We started planning back in February."
Team Step and Swing for Elaine ended up raising more than $20,000. He said more than 100 people participated in his Longest Day festivities at the Colvin Run Community Hall in Great Falls. Everything, including the Colvin Run Community Hall space, was donated.
"What we did was ask seven or eight of the local dance instructors if they would come and donate their time to provide a group lesson in whatever their specialty was," Krawitz said. "There was some swing, some ballroom, some Latin dance. We had deejays. We asked area local merchants to provide food, and many places stepped up wonderfully and then we asked some merchants to donate materials or services to auction off. Everything was donated — time, services and goods."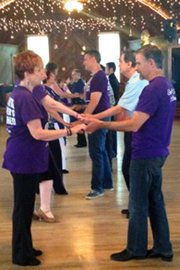 The event, which lasted from 10 a.m. through 8 p.m., went off without a hitch.
"The amazing thing is when you have hardworking, smart people, they think of a lot of the things that could go wrong ahead of time, so when it came to the actual day of the event, it couldn't have gone smoother," Krawitz said. "We had a great success, we raised a lot of money and had a lot of fun preparing, and the day itself was fabulous."
ANOTHER LOCAL TEAM, Bridge Heroes United, consisted of two local bridge units that combined forces for The Longest Day.
Arlington resident Yuen DeAnda, one of the five Bridge Heroes United team captains, said, "This was the first time the Northern Virginia Bridge Association (NVBA) joined forces with the Washington Bridge League (WBL) for a greater cause, raising funds to benefit Alzheimer's research on the Longest Day."
On June 21, Bridge Heroes United held a Bridge-a-Thon from 9 a.m. to 5:30 p.m. People of all ages and bridge levels came, including school age students.
Everything was donated, and Bridge Heroes United raised more than $20,000 for the Alzheimer's Association.
Despite the differences in their activities, sizes, fundraising goals and locations, all teams that participated in The Longest Day did work to combat one of the country's most prevalent diseases.
"Alzheimer's affects my family so this is such a joy to be able to go out and provide information and fight the nation's fifth leading cause of death," Schelhorn said. "It is the only cause of death in the top 10 that has no prevention, no cure and no way to slow it down. This is the most expensive disease in the country."
The Longest Day, in addition to raising funds for important research and services, gave participants a chance to find power over the hope-dashing disease.
"In June of 2013 we were barely keeping things together let alone organizing a dance," Krawitz said. "I'm certain I will do it again next year. We dance to live — it certainly helps."