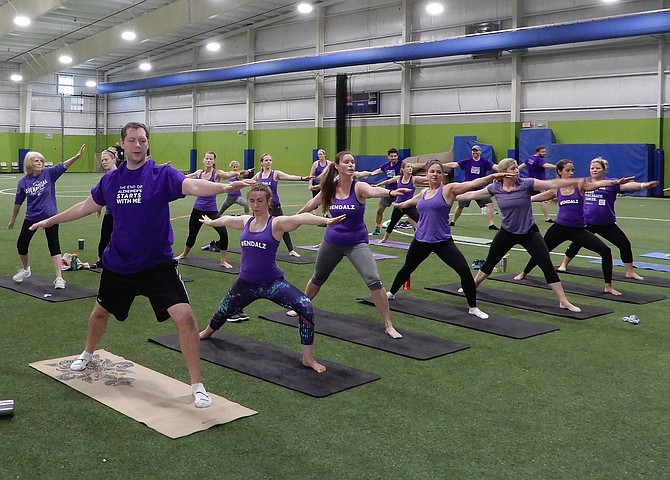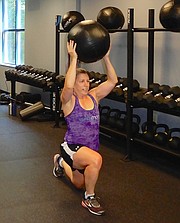 In one area of the Fieldhouse in Chantilly, people lifted weights, while in other areas they ran on treadmills, did lunges, pullups and yoga. But besides working on their bodies, they were raising money for a devastating disease that deteriorates people's minds.
Dubbed "The Longest Day Epic Workout," on Saturday, June 22, some 30 people participated in four, 30-minute workouts, with their registration proceeds going to the Alzheimer's Association. They worked hard, but had fun, too. And, since purple is the color representing the disease, many wore purple shirts saying, "The end of Alzheimer's starts with me," or "#ENDALZ."
"We're here to shine a light on the darkness of Alzheimer's," said Cindy Schelhorn, a senior spokesperson with the Association's National Capital Area region. "June 21 was the longest day of the year, and the Association's slogan is 'The day with the most light is the day we fight.'"
Schelhorn, of Centreville's Sully Station II community, said, "Similar activities are going on across the country today, because Friday was a workday. But people are doing fundraising events throughout June and July and can still sign up to create their own, do-it-yourself fundraisers at alz.org/thelongestday."
For example, children have had lemonade stands, vintners have held wine-tastings, and others have done bake sales and ballroom dancing or gone sailing, fishing, golfing or bowling. "People are doing things they love or that were important to their loved ones to raise money," said Schelhorn. "These activities also increase awareness of and support for the Association."
THE FIELDHOUSE EVENT was held in honor of member Sara Bach, who works out there regularly with EveryMom Fitness, which runs a bootcamp for moms with children. And their children can even work out with them, if they want.
"My mom, Susan Patchcoski, who's only 63, has younger-onset Alzheimer's," said Bach. "She was officially diagnosed two years ago, and it's hard – especially for my dad, her caregiver. But it takes a toll on the whole family. So I organized this event with my community and also set up a Facebook fundraiser. And so far, just from family and friends, I've raised $6,000." To donate, go to www.facebook.com/donate/2025085121127336/?fundraiser_source=external_url.
"This workout was a great idea because my mom loved to exercise – she'd go to the gym and walk," explained Bach. "And on the 'Longest Day,' I wanted us to exercise. And people posted videos from elsewhere of them exercising – or baking cookies or muffins – because she also liked to bake. They also sent messages saying they did it in her honor. My brother Justin bought the shirts for the Fieldhouse event, and my dad helped spread the word."
The event included a raffle, too, with gift cards and merchandise donated by local businesses. And at the outset, Bach addressed the participants. She thanked the Fieldhouse for donating its venue, and one of its fitness instructors, her friend Kristen Dallhoff, for her support. Bach suggested a small workout, and Dallhoff instead created a bigger one so more money could be raised.
"It took me a long time to accept that my Mom had younger-onset Alzheimer's," said Bach. "There's no remission, no stopping it, no slowing it down, no cure and no survivors. My mom will eventually get to a spot where she won't recognize our family and my children, and that breaks my heart.
"It's also heartbreaking that millions of other people and caregivers are impacted by this disease. I know many of you have someone that you're doing this workout to honor today. Thank you for being here to stand up and fight for research, better support and, most importantly, a cure. I know that, with the support of a community like you all, one day it will happen."
Bach also urged them to remember that those with Alzheimer's are people, not patients. "They're husbands, wives, brothers, sisters, bosses, employees, sons and daughters – all of whom were robbed of time and the ability to continue to chase their dreams and live their lives freely," she said. "So let's get at it and live your life freely, while you can, and in the healthiest way you can,"
Afterward, Bach said, "I think it's incredible that so many people took time out of their day to come and support the cause – and it's humbling. My grandmother died of complications from Alzheimer's and dementia, and my fear is that there might be a genetic component to it, so it makes me want to raise money even more."
Schelhorn has been with the Alzheimer's Assn. for more than 20 years and, for her, too, it's also personal. Her father, Roy Leach, was just 49 when he was diagnosed with younger-onset Alzheimer's. "We estimate there are 5.8 million Americans with Alzheimers," she said. "And we believe 200,000 of them are living with younger-onset Alzheimer's."
She said part of the reason is because there's more of a movement today for early diagnosis. "We know that, if we can get people to doctors early for diagnosis, it allows them and their families time to prepare for their care," she explained. "They can also decide how to best enjoy their remaining lives."
Schelhorn also stressed that two-thirds of those with Alzheimer's are women, and research is underway to determine why. "We also know that two-thirds of the Alzheimer's caregivers are women," she said. "So this is an important issue that women need to be aware of because it impacts them significantly."
REGARDING THE EVENT at the Fieldhouse, she said, "I'm most impressed by the number of young adults who came together to support Sara and the cause. So many people think of Alzheimer's as an old-person's disease, but we see it as an all-persons' disease. Everyone's lives – grandparents, parents and children – are affected by it. The message today is, regardless of age, we're all united in the fight to end Alzheimer's."
For more information, go to alz.org or call the free, 24/7 help line, 800-272-3900, for questions and concerns. It's staffed by trained professionals who can assist in more than 200 languages and dialects.

The Fieldhouse is at 14810 Murdock St., off Stonecroft Boulevard, in Chantilly. Hours are Monday-Friday, 5 a.m.-10 p.m.; Saturday and Sunday, 8 a.m.-10 p.m. Phone:571-529-6545 or visit https://cyafieldhouse.org/. A nonprofit, it offers a wide variety of workouts and classes for people of all ages and fitness levels. Personal/small-group training is also offered, as well as a place for teams to practice.