Lily and Lauren Runz, 5 year old twins, have a pug named Puma. Puma has lived with the Runz family for 11 years and loves to play. According to Lauren, Puma is obsessed with tennis balls. "We drop a tennis ball off the deck and he runs back up the stairs to bring it to us!" Lily says that he loves to cuddle and "roll around on top of grapes" and other food that falls on the kitchen floor, which she thinks is very funny. Puma is a very loyal and loving dog. He greets Lily and Lauren every day at the bus stop after school and is a great pet for the Runz family.
Liam (8), Kellan (6) and Devin Rayson (4) love their cat, Simba. Simba's full name is Simba Franklin Rayson because the boys' aunt found him as a stray on Franklin road in Baltimore, Md., last January. Though the Raysons wanted him to be an indoor cat, Simba was very crafty and was always finding ways to get outside, including opening doors by himself! Simba is now an outdoor cat and loves to roam around, but he always stays close to home so that he can come back for dinnertime. Though he is very independent, Simba loves his family. When the boys leave for swim practice in the morning, Simba follows closely behind. Kellan says that he thinks his cat is really funny because "he thinks that everything that moves is a toy." Liam not only loves his cat, which sleeps on his bed every night, but also loves to make up cat jokes: "What's a happy cat's favorite color? Purrrrrrple!" Simba is the perfect companion for the three energetic Rayson boys.
Jaya Mishra (8) enjoys taking care of her two aquariums. She started with two fish and now has nine different kinds including Neon Tetras, a Bolivian Ram, and a Boesemani Rainbow. Jaya has earned the nickname "the fish doctor" in her family because she is always checking to make sure that the fish are healthy and happy. Jaya's favorite thing about her fish is that "they do human things. All of the fish have friends and groups. They stick together and it's really fun to watch."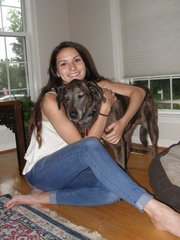 The Blystone family is a family of animal lovers. They are currently the owners of seven different types of pets: dogs, a cat, a bearded dragon, hermit crabs, fish, a snail, and a guinea pig. Kelsey's bearded dragon, Darwin, likes to swim around the sink and has, funny enough, been potty trained! Kelsey explained that once her sister, Lindsay, got a leash for Darwin and tried to take him on a walk which did not make him very happy. Many of the Blystone's pets enjoy playing together, like Uno, the cat who likes to cuddle with Darwin and with the guinea pig. The Blystone family keeps their hands full with all of their fun and lovable animals!
Penny, a Catahoula Leopard dog, has been a member of the Bailey family for 12 years. According to Saundra Bailey (21), Penny acts like a great guard dog and is very protective, barking at everything in sight. Penny will eat anything, from food to rocks, and once chomped down an entire corn on the cob, leading to a two thousand dollar surgery to remove it! According to Saundra, Penny is very smart and persuasive when begging for food. "She will bark once, walk into the kitchen, bark again, and then open the pantry where we keep her food. She knows how to tell us what she wants." Penny is a great pet and friend for Saundra and her family.